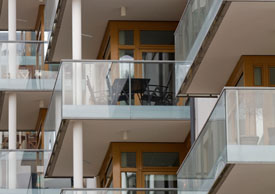 Whole-home energy retrofits are growing in popularity across the country, but what if you are one of the more than 20 million American households that live in an apartment or condo? What if you own or manage an apartment building? Multifamily buildings represent a large and mostly untapped potential for saving energy as traditional energy efficiency programs have focused on single-family homes or commercial office buildings. Multifamily buildings present unique challenges and opportunities for energy savings that do not lend themselves to a one-size-fits-all approach. One key to unlocking their potential is scaling up energy efficiency programs that are specifically designed to reach the owners and tenants of multifamily buildings and to overcome common barriers to investing in energy efficiency. These include split incentives between landlords and tenants and building owners' lack of capital to make major investments.
We will be highlighting strategies to save energy in multifamily buildings throughout the month of March, beginning with our new report released today. The report, Scaling up Multifamily Energy Efficiency Programs: A Metropolitan Area Assessment, maps the opportunities to expand energy efficiency programs for multifamily buildings in the 50 U.S. metropolitan areas with the largest multifamily housing markets. We focused on metropolitan areas because that is where the vast majority—all but 7%—of multifamily households is located. The report is the first step in a multi-year ACEEE Multifamily Energy Savings Project to expand utility customer-funded energy efficiency programs for multifamily housing.
Are programs available in your area to save energy in multifamily buildings? Are your utilities leading the way, or is there an opportunity to expand programs to better reach the multifamily housing sector? We looked at the annual reports of over 100 utilities in 50 metropolitan areas to answer these questions. The good news, and one of the more surprising findings, is that we found one or more utility-sponsored energy efficiency programs targeted specifically toward multifamily buildings in 30 of the 50 largest multifamily housing markets. The not-so-good news is that the other 20 markets don't have any multifamily programs. This includes two of the largest metropolitan areas, Dallas and Miami. Furthermore, while spending on multifamily programs varies widely, it accounts for a small share of overall spending on energy efficiency programs in most areas.
This map shows which of the 50 metropolitan areas with the largest number of multifamily housing units have access to one or more multifamily energy efficiency programs funded by utility customers.
Metropolitan Areas Analyzed With One or More Multifamily Energy Efficiency Programs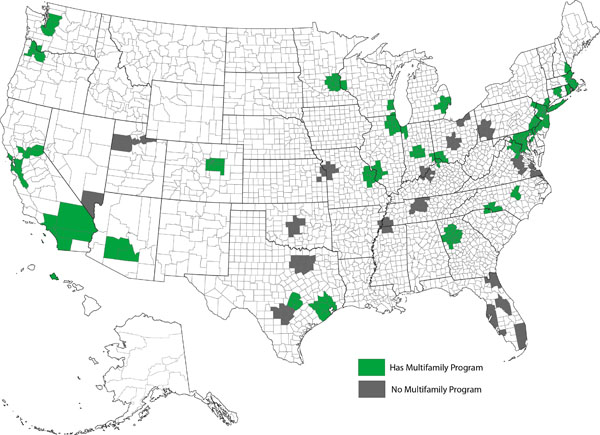 Source: ACEEE
While it is encouraging that we found 50 energy efficiency programs designed for multifamily buildings (there were multiple programs in several of the 30 metro areas), there is still a lot of room to reach more buildings and save more energy. In order to provide a roadmap to the biggest opportunities to improve multifamily programs, we also analyzed the housing market and utility policies in place in each metropolitan area. We then classified each area as leading the way, or as an opportunity to expand or create new programs.
This report is just the beginning of "Multifamily March" here at ACEEE. Coming attractions include the release of a follow-up to our previous report with CNT Energy that provides the multifamily housing sector with a guide to engaging with their utilities. This new report will provide utilities and energy efficiency program managers a primer on the unique aspects of the multifamily housing market and recommendations for designing effective programs. Also, to be released soon, is a best practices guide from the National Housing Trust that draws on their experiences working with utilities in a number of states to expand resources for energy efficiency in affordable multifamily housing, a project in which ACEEE was a partner. And, finally, we hope to see you all at the 2013 National Symposium on Market Transformation, March 25-26 in Washington, D.C., for a panel discussing "Innovative Policies and Programs for Multifamily Housing." At the end of "Multifamily March," not only will apartment dwellers, condo owners, and landlords know if they can tap into a multifamily energy efficiency program in their area, but stakeholders across the housing and energy efficiency communities will have additional tools to help them to chart a path towards greater energy savings in multifamily buildings across the country.