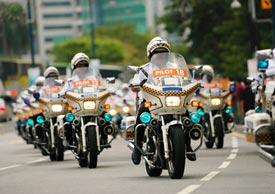 In the last few years, customer-funded energy efficiency programs administered by utilities and statewide public benefits organizations have been developing innovative program designs, services, and delivery methods and expanding into new markets across the country. To recognize and profile the best program practices, and share what works for outstanding electric and natural gas programs, ACEEE has conducted its third national review of leading programs and is now releasing Leaders of the Pack: ACEEE's Third National Review of Exemplary Energy Efficiency Programs.
ACEEE solicited nominations of exemplary programs from across the country and convened a panel of experts on utility energy efficiency programs to review and select exemplars in each of a diverse set of categories. We sought programs with demonstrated ability to deliver direct energy savings cost-effectively through energy efficiency with high levels of customer service and satisfaction. Other characteristics we looked for were innovative features that hold the promise of significant future impacts, and how transferable we expected the program's success to be.
Overall investment in utility energy efficiency programs has approximately tripled since ACEEE's last review in 2008, when program budgets were just over $2 billion per year, to almost $6 billion in 2012. With the increasing role of energy efficiency within energy resource portfolios, it is especially critical for program planners, administrators, and implementers to have access to up-to-date, quality data and information about leading program designs and what gets results. The report provides descriptive profiles of all the exemplary programs, with their background, structure, performance results, and contact information for program representatives. Common trends among the leading programs include:
Targeting market niches and sub-segments.
Finding ways to reach previously underserved customers with new programs and approaches.
Continuing many "tried and true" approaches to save energy cost-effectively year after year.
Adapting and tuning offerings to maintain and grow cost-effective energy savings.
Simplifying processes for customers to help to increase the number of program participants.
Making financing more widespread.
Incorporating the latest energy-efficient technologies, such as LEDs and other emerging technologies.
Award certificates were presented to some of the selected programs at the National Symposium on Market Transformation in March, and all will be recognized at the National Conference on Energy Efficiency as a Resource in Nashville, Tennessee, September 22-24, 2013. Registration is now open.
Today's exemplary programs embody a long, rich history of innovation, hard work, and proven results. The programs that ACEEE selected in our third national review are a strong testament to the role that well-designed energy efficiency programs can play as a utility resource.