Overview | Program | EEFF101 | Registration | Accommodations | Past Finance Forums
Energy Efficiency Finance Forum Overview
How do you finance energy efficiency? Join us to explore innovative models and find out what works, and why. Our dynamic event will help you get started on financing projects that save energy, reduce costs, and create jobs.
We want you to succeed, because the energy efficiency revolution will be impossible without effective financing options. Energy Efficiency financing is already a multi-billion dollar industry, but it has the potential to become hundreds of billions of dollars.
For more than a decade, the Finance Forum has brought together a diverse mix of participants. We welcome clean-tech investors, financiers, real estate professionals, policymakers, efficiency program planners, NGO members as well as the staff of utilities and energy companies.
To learn more about Finance Forum sponsorship opportunities, please contact financeforum@aceee.org
Find out which organizations participated in the 2016 Finance Forum here.
Likely Participants: Clean-tech and energy efficiency investors; financiers; real estate professionals; CDFIs and other mission-driven lenders; entrepreneurs; utility staff; local, state, and federal agency personnel; energy service company personnel; policymakers; NGOs; energy efficiency program planners, operators, and evaluators; and marketing experts.
2017 Co-Chairs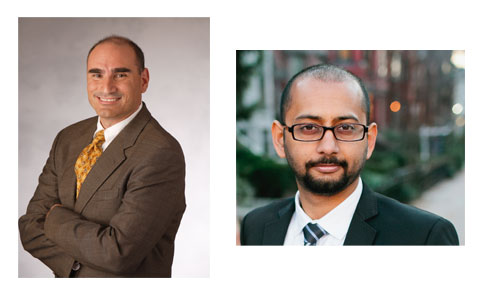 Joel Freehling, CB&I                    Anmol Vanamali, VEIC
                                          Click here for Joel's bio.                          Click here for Anmol's bio.
2017 Advisory Committee
| | |
| --- | --- |
| Scott Bernstein | Center for Neighborhood Technologies |
| Matthew Brown | Harcourt, Brown, & Carey |
| Megan Campbell   | Opinion Dynamics |
| Sandy Fazeli | National Association of State Energy Officials |
| Maria Fields | Joule Assets |
| Julia Friedman | Midwest Energy Efficiency Alliance |
| Alfred Gaspari | Pacific Gas and Electric Company  |
| Bert Hunter | Connecticut Green Bank |
| Robert Johnson | Hannon Armstrong |
| Chris Kramer | Energy Futures Group |
| Molly Lunn | Illinois Office of Energy & Recycling |
| Jeffrey Schub | Coalition for Green Capital |
| Jim Wheaton | BLG Consulting |
Program

Jeffrey Eckel is President, CEO and Chairman of Hannon Armstrong, the first clean energy REIT and a leading investor in sustainable infrastructure assets including efficiency and renewable energy. Read more about Mr. Eckel's experience here. 
Charles Hookham, P.E., is Director, Business Development and Projects of CMS Energy (Consumers Energy and CMS Enterprises), and has over 36 years of experience in the electric power and other heavy industrial sectors, and was on the American Society of Civil Engineer's Board of Directors. Read more about Mr. Hookham's experience here.
Chris Wheat serves as Chief Sustainability Officer and Senior Policy Advisor in the Office of Chicago Mayor Rahm Emanuel. Chris coordinates policies, projects, and operations across City Departments and Agencies to advance the Mayor's sustainability agenda. Read more about Mr. Wheat's experience here.

EEFF101
Energy Efficiency Finance 101: Choose Your Own Adventure: Creating an Energy Efficiency Financing Program
(Sponsored by: Cadmus)
Sunday, May 21, 2017 • 1:00 - 5:00pm
Workshop fee: $ 450  (Limited to 40 participants)
This workshop will provide an introduction to the world of energy efficiency finance. Instructors will guide participants through the key decisions in creating an energy efficiency financing program, with pros and cons of each choice from a variety of stakeholder perspectives. To register for the workshop, please select the option when completing your registration.
Registration
The Regular Rate now in effect through May 20.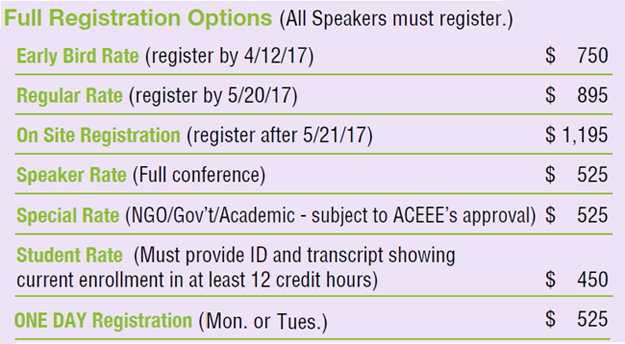 Register online here:
If you need a PDF version of the registration form, please contact jseas@aceee.org.
Student Registrations: To be confirmed at the student rate, please send a copy of your student ID and transcript showing enrollment in at least 12 credit hours per semester to jseas@aceee.org.
Funder/Ally Waivers: Contact jseas@aceee.org to check on the availability of registration waivers if you are a 2017 Finance Forum funder or ACEEE Ally member.
Cancellation and Refund Policy: Registration refund requests due to cancellation must be submitted no later than May 12, 2017. A $100 processing fee will be charged. Please email jseas@aceee.org if you would like to cancel. Cancellation refunds will not be processed after the May 12 deadline. Refunds will be paid by check or credit card chargebacks.
 
Accommodations
All conference activities will take place at the Fairmont Chicago. The deadline to request rooms within the ACEEE group block has expired.  Contact the Fairmont Chicago directly (800-526-2008) to check on availability and rates.