Overview | Registration | Accommodations
What is Rural?
Small towns and rural countryside make up three fourths of the land area in the United States and are home to 14% of the total US population. Rural America, defined as areas with a population of less than 50,000,  is also a way of life with a proud and independent culture all its own. Just as rural and small-town America's lifestyle is unique to its geography, so too are its energy, economic, and societal challenges.
The 2018 Rural Energy Conference, is a one-day, multi-track conference that will precede the two-day annual meeting of the Southeast Energy Efficiency Alliance (SEEA). It will convene leaders from industry, utilities, cooperatives, non-profits, academia, and all levels of government to discuss how energy efficiency technologies and programs can help rural America leverage its unique characteristics for economic growth and social equity.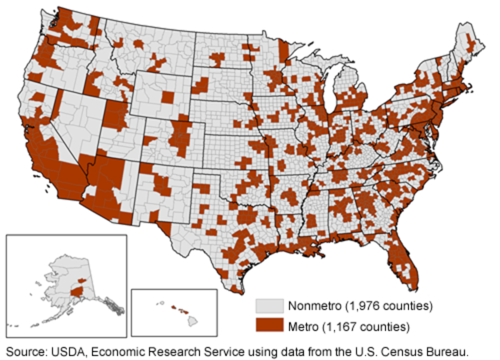 Our inaugural Rural Energy Conference will feature plenaries and panels on the three tracks below: Energy Efficiency Programs, Energy Burden & Equity, and Economic  Development. Although we will not be calling for abstracts, there will be opportunities to shape the conference agenda through webinars that we will host on each track.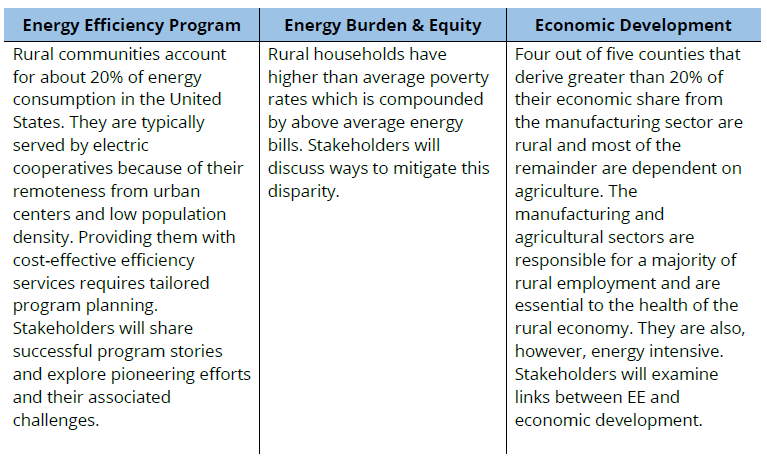 Registration
Registration to open Summer 2018.

 Accommodations
To reserve your accommodations for the ACEEE Rural Energy Conference, October 22, use this link.   

A block of rooms have been reserved for the Rural Conference at the Georgia Tech Hotel and Conference Center. Individual attendees can make their reservations by using the button above linking to the online reservation site or call 800-706-2899.  Be sure to mention ACEEE to receive the $189 single/double occupancy rate.
For special requests or inquiries, please enter the information in the appropriate boxes during the online booking process or call the hotel directly at 800-706-2899 or 404-838-2100. Reservations by phone are accepted Monday through Friday from 9:00 am - 6:30 pm. (The Georgia Tech Hotel is a non-smoking property.)
To request rooms pre- or post- the ACEEE group dates, please contact the hotel directly at 800-706-2899 to check on availability. The reservation deadline is September 25, 2018.
Parking: Overnight parking is available at a rate of $15.00 per night.  For unlimited in and out access to the garage, the rate is $18.00 per night.