Overview | Program | Call for Presentations | Registration | Accommodations | Past Finance Forums
Announcements
Energy Efficiency Finance Forum Overview
How do you finance energy efficiency? The 2018 Finance Forum will explore innovative models and find out what works, and why. Our dynamic event will help attendees get started on financing projects that save energy, reduce costs, and create jobs.
We want you to succeed, because the energy efficiency revolution will be impossible without effective financing options. Energy Efficiency financing is already a multi-billion dollar industry, but it has the potential to become hundreds of billions of dollars.
For over a decade, the Finance Forum has brought together a diverse mix of participants.
Learn more about sponsorship opportunities or the program by contacting financeforum@aceee.org.
Likely participants include: Clean-tech and energy efficiency investors; financiers; real estate professionals; CDFIs and other mission-driven lenders; entrepreneurs; utility staff; local, state, and federal agency personnel; energy service company personnel; policymakers; NGOs; energy efficiency program planners, operators, and evaluators; and marketing experts.
Program
2018 Co-Chairs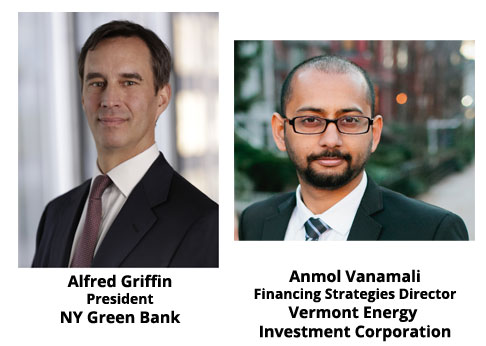 Read more about Alfred's experience here and Anmol's experience here.
2018 Finance Forum Advisory Committee
Zach Axelrod, Arcadia Power
Matthew Brown, Harcourt Brown and Carey
Megan Campbell, Opinion Dynamics
Sandy Fazeli, NASEO
Bob Hinkle, Metrus Energy
Bert Hunter, CT Green Bank
Joe Indvik, Rock Creek Consulting
Chris Kramer, Energy Futures Group
Elodie Michaels, Pegasus Capital Advisors
Yerina Mugica, Center for Market Innovation, NRDC
Dan Reicher, Stanford Law School
Rachel Reilly Carroll, Enterprise Community Partners
Jeffrey Schub, Coalition for Green Capital
Call for Presentations
ACEEE is accepting suggestions for the 2018 Energy Efficiency Finance Forum. Join other energy efficiency finance experts to submit presentations that cover topics on financing products such as green banks, on-bill financing, energy service agreements, and property assessed clean energy. Tell us about your ongoing or upcoming initiatives, projects that have succeeded (or failed!), new financing instruments, or other endeavors in the field of energy efficiency finance.
Submit your presentation suggestions online by the extended deadline of Friday, December 15, 2017. If your presentation is accepted, you must be willing to register for and present at the Forum.
All we need from you is:
A 200-word description and tentative title of your presentation.  

Your contact information and your bio or a link to your LinkedIn profile.

Registration
Registration to open in February 2018.

Accommodations
All conference program activities located at the DoubleTree by Hilton Hotel Tarrytown. Accommodations are available at the DoubleTree by Hilton Hotel Tarrytown at the group rate of $159 per night king/double through April 20, 2018. We encourage you to make your reservations early to take advantage of discounted prices and availability.