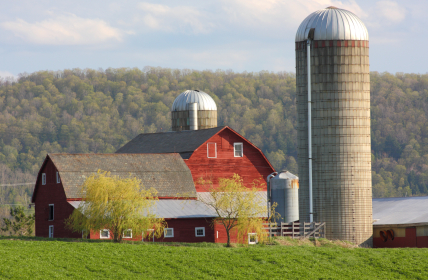 Increasing efficiency in the agricultural sector and in rural communities can improve the financial situation of farms and communities, ease the burden on the electricity grid, and decrease pollution and dependence on foreign oil.
In recent years, energy efficiency programs targeting agriculture and rural communities have become more prevalent nationwide.  New organizations specifically dedicated to improving efficiency on farms, ranches, and rural small businesses have emerged, and existing programs are widening their focus to include rural energy efficiency issues. Whether by offering rebates for energy-efficient farm equipment, providing online or on-farm audits, or lending technical or financial support, these programs play a key role in aiding producers and rural businesses in reducing their costs, oftentimes allowing them to stay afloat during periods of sky-rocketing fuel prices.  In turn, these successes lead to increased rural economic development, food security, reduced dependence on foreign energy sources, and improved environmental quality.
Since 2005, ACEEE has been proud to host the biannual Forum on Energy Efficiency in Agriculture, a conference that brings together a diverse group of participants to raise awareness, share information, form new collaborations, and establish new visions regarding policy and program opportunities to increase energy efficiency on farms and ranches and in rural communities. The Ag Forum focuses on advancing programs and policies that can help the agricultural and rural community realize the benefits of more efficient energy use, as well as issues related to increasing the sustainability of farms and rural communities.