Anyone following the budget crises facing state governments can tell you that the policies and actions taken in state capitols can make indelible impacts on local governments. Local governments often rely on state funds, and in many cases take cues from the states when considering policies and programs. Recognizing that the economic and environmental benefits of energy-efficient buildings and transportation can help both states and localities attain broader policy goals, a growing number of states are collaborating and leveraging their unique resources to advance energy efficiency at the community level. Whether local governments aim to cut costs, create jobs, protect the environment and public health, or increase energy security and reliability, energy efficiency is the fastest, cheapest, and cleanest energy resource available, and one that numerous states and local governments are already employing successfully.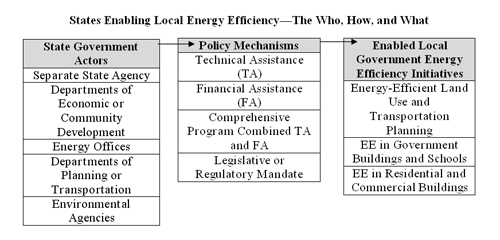 Our chart above shows how a number of state government agencies can spur local governments to adopt energy efficiency strategies. States have a number of different levers to encourage action at the local level, including technical and financial assistance. In some cases, states have created comprehensive programs that tie financial incentives to local government actions based on specific state recommendations or technical assistance. For example, to advance energy efficiency in local government public buildings, the Minnesota Office of Energy Security runs the Local Government Public Building Enhanced Energy Efficiency Program (PBEEEP), which assists local governments with identifying and evaluating energy efficiency measures. A key component of PBEEEP is that the program provides local governments access to project funding through a combination of co-funding and lease-purchase financing without the need to have budgeted in advance.
A handful of states have also developed comprehensive community energy programs, which offer technical assistance, financial incentives, and energy services to advance energy efficiency across numerous sectors at the local level. The Massachusetts Green Communities Designation and Grant Program, an initiative of the Green Communities Division, works with municipalities toward their qualification as a Green Community and provides funding to qualified municipalities for energy efficiency and renewable energy initiatives.
States can also enact legislative or regulatory policies for actions such as requiring certain energy efficiency measures in schools. Several states have embraced the protocol for new school construction or substantial renovation established by the Collaborative for High Performance Schools (CHPS). New York and Massachusetts have developed state-specific protocols of CHPS and the Northeast states (ME, VT, NH, RI, and CT) have adopted Northeast-CHPS as their protocol. Rhode Island mandates NE-CHPS for all new school construction, and New Hampshire will reimburse municipalities for the cost of building to schools that comply with NE-CHPS. The Washington Sustainable Schools Protocol is the state's benchmark for design and construction of high performance schools. 
As our white paper makes clear, states that work with their local governments to advance energy efficiency are seeing tangible benefits. Enabled by smart state policies and programs, local governments can help schools, homes, businesses, and government-owned offices and facilities save money on energy bills. Local governments have unique resources and authority to drive efficiency forward—but sometimes it takes state action to shift into gear.