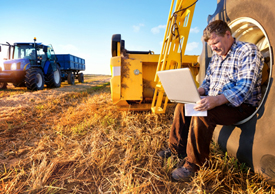 The 2012 Farm Bill is still several months away from really heating up, but we are already starting to think about what our priorities should be.  Given today's political climate, it seems likely that there will be some deep funding cuts compared to the 2008 Farm Bill. There may have to be trade-offs.  Though data collection doesn't have the same high profile in the debate as subsidies or rural development, it is extremely important for the effective operation of our agricultural system.
At the Farm Foundation Forum on Tuesday, we heard from John Hayes from the Farm Credit Council, Scott Irwin from the University of Illinois, Tom Wegner from Land O' Lakes, and Robert Young from the American Farm Bureau Federation.  The consensus was clear: as a government agency, USDA has a mandate and reputation for collecting data that is thorough, consistent, unbiased, and inexpensive to users.  As a 2010 ACEEE report suggests, data collection by the government is essential and funding cuts could result in negative consequences. The Energy Information Administration at the Department of Energy has already been targeted for budget cuts.
So what does the loss of agriculture data mean for energy efficiency?  The USDA collects data on farmers' energy use by sector and adoption of farming practices known to be more energy efficient.  For example, no-till farming can reduce energy use by decreasing the amount of fuel and irrigation needed in a field.   According to results found by the Annual Resource Management Survey, an estimated 35.5% of farmland in the United States is not tilled.  This kind of information can help us assess which types of farmers find it economically viable to switch to no-till farming and which kinds of policies are most successful.
In order for USDA's data collection to remain useful, it must be adequately funded to ensure that data is reported consistently and continuously, and with adequate sample sizes.  If there are large funding cuts, the USDA might be forced to survey fewer farmers, generating poor quality results, or to produce less frequent reports.  And, as we noted in our report, if you miss an opportunity to collect data, you can't go back and collect it later. As Congress begins work on the 2012 Farm Bill, we should keep in mind the value of data collection amid all the likely budget trade-offs.