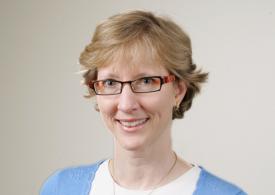 As many members of the ACEEE family may have heard, Linda Latham, our Chief Operating Officer, succumbed to breast cancer on September 24, 2011. Linda had only been with ACEEE for a year and a half, but in that time she dramatically improved our finance, human resource, and IT systems while mentoring many of our staff and contributing substantially to our energy work. Equally important, she contributed a lot to the esprit de corps at ACEEE, recognizing accomplishments, treating staff as important individuals, and adding fun to our work lives.
Prior to joining ACEEE, Linda contributed extensively to the energy efficiency field over a nearly 25-year career. She was the Branch Chief for Energy Star at EPA during the initial ramp-up of the ENERGY STAR program, helping to expand the program from a modest initial effort focusing on personal computers to the broad and influential program we know today. She continued to support ENERGY STAR and other programs as an independent consultant and as Vice President for Programs at D&R International. For example, she played a key role in the implementation of California utility programs that expanded stocking and sales of compact fluorescent lights and also in the implementation of the federal appliance rebate program funded under the American Recovery and Reinvestment Act and administered by the individual states. Moreover, she contributed to the development of gas utility energy efficiency programs in Massachusetts while working for the Massachusetts Department of Public Utilities.
Here at ACEEE Linda was a fountain of ideas. She "chewed" on problems until she had a solution, and almost invariably she'd come up with a great one. She also had a steel backbone, standing up for what she thought was important and fair. And she was humble — focusing on the results and not her contributions or accomplishments.
During her recent and rapidly-progressing illness, Linda continued to work part-time for ACEEE. Work provided an outlet for helping others and the world while she more privately battled her cancer. She was always positive — all we would hear about bad days was that "I'm not feeling very perky today." And she continued to help others, despite her own troubles and challenges. We will miss her dearly.
In Linda's honor, ACEEE is establishing the "Linda Latham Memorial Scholarship Fund" to provide scholarships to college and graduate students to attend ACEEE's Summer Study conferences. ACEEE has provided a few student scholarships in recent years, funded by friends of ACEEE. Linda was a strong supporter of these efforts, believing that they were important to help build the next generation of energy efficiency leaders. With the establishment of this fund, we will be able to expand these scholarships and help more future leaders. For information on donating to this fund, see our Web page.
Linda Latham was a selfless leader who stood up for what she believed in and really made a difference. The rest of us have benefited from her strength, intelligence, and grace against all odds, and will endeavor to follow in her footsteps.