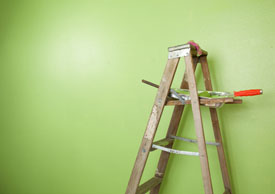 Lately a lot of attention is being paid to financing of clean energy technologies. The promise is that just around the corner we'll be able to use these technologies to help rebuild the economy, create American jobs, improve international competitiveness, and clean up the environment. But most people don't realize that cost-effective clean energy technologies already exist and are being deployed nationwide. Energy efficiency upgrades in buildings decrease the amount of energy needed for buildings to function, thereby reducing pollution while facilitating our independence from foreign energy imports. These projects save American homeowners and businesses money by reducing their utility bills, while supporting jobs in the construction and financial sectors.
Here at ACEEE we recently evaluated a number of specific loan programs in our report, What Have We Learned from Energy Efficiency Financing Programs? The report is the second in a series on energy efficiency financing—the first report, Energy Efficiency Finance 101: Understanding the Marketplace, (and its accompanying blog) gives an overview of the financing options and investment partners that are currently available.
We explored the question: If this really is a clean, cost-effective energy resource that can accomplish all these things, why hasn't it caught on yet?
We found that financial barriers exist in implementing proven building energy efficiency measures. A key barrier is that many businesses and homeowners simply don't have the upfront capital to pay for contractor labor and materials. Energy efficiency loan programs can help building owners and occupants to overcome the upfront costs of these improvements. The loans can then be paid back with the money saved through reduced energy costs. The potential for energy savings from energy efficiency loan programs is vast. The building sector consumes about 74% of the electricity used in the United States and the market has barely begun to leverage this energy resource.
Our study explored a variety of energy efficiency financing programs that are operating today. We discovered that credit unions and community banks have been more active partners in energy initiatives than larger financial institutions because loan pools thus far are generally modest in size. We also learned that default rates on energy efficiency loans are small — ranging from 0-3%. We found that participation rates of the programs evaluated were generally low. The percentage of total customers in the classes served by programs compared to the total number of program participants reveals that only two of the programs surveyed had rates that exceeded 3% of the customers targeted and more than half of the programs had participation rates below 0.5%.
Growing private investment in these programs to make these services available to more people is something that Congress, federal agencies, and many states are currently considering. One approach being considered would be for the government to provide a small percentage of money that would function as a loan loss reserve to lenders. Because the risk of default on these loans is low, the pool of money would need to be only a small fraction of what lenders would actually loan to borrowers. Borrowers would repay these loans and that money could be loaned back out to more borrowers.
The full report provides a number of recommendations and "best practices" that should be considered as new programs are developed and existing programs are expanded. A third and final report in this year's series will be released next month and will focus on one recommendation in particular, on-bill financing.