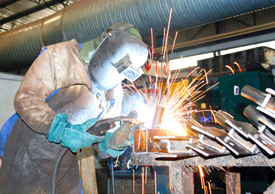 The manufacturing sector continues to lead the recovery in the U.S., according to the Institute for Supply Management's (ISM) October 2011 Manufacturing ISM Report on Business®. ISM's Purchasing Managers Index (PMI) survey reported the 27th consecutive month of expansion in the manufacturing sector. However, the survey also shows this growth is slowing down, continuing a trend we have seen over the past four months.
The ominous softening of the global market, sparked greatly by the economic turmoil in Europe, has been spooking various industries. As a result, the industrial sector is pulling back and making negative internal forecasts. This is consistent with ISM's report, which suggests the global economic softening is causing domestic industries to move into defensive modes: hording cash and reducing investments.
We see this trend reflected in the inventories data collected by ISM, with firms reducing their inventories. According to the ISM Inventories Index, 11 industries reported decreases in October. The Inventories Index showed a dramatic contracting of the industry, registering at 46.7 percent, 5.3 percentage points lower than the 52 percent reported in September. In addition, customers are running lean inventories because they are concerned about the strength of the markets. The ISM reported that the Customer's Inventory Index is 5.5 percentage points lower than in September. We are also seeing an increase in order backlogs of 6 percent higher than September. The chemical products industry is "starting to see some deflation on raw materials," according to the ISM report.
As industrial energy efficiency program managers continue to work with customers, there are a few things to consider when asking industries to make investments. For instance, the ISM reports that metal castings are in short supply. In addition, plastics and rubber products and electrical equipment are reporting increases in backorders. Other potential sectors that are reporting growth and may be looking to expand capacity include computer and electronic products; food, beverage and tobacco products; nonmetallic mineral products; primary metals; fabricated metal products; paper products; and machinery. According to a representative of the fabricated metal products industry, "business is very strong, both domestically and internationally." Some of these industries represent opportunities for investments, but we must be cautious and sensitive to the concerns of the different sectors.
This general softening of the global economy and resulting weakening of the dollar could mean good news for the U.S. because we are becoming more cost competitive in the global market. The ISM reported that employment is slowly growing and while imports are contracting, exports have remained unchanged. These trends are consistent with a recent article in the Economist, which stated that China's rising labor prices are driving manufacturing jobs back into the U.S. This means that despite economic hesitancy we may see a comeback in the U.S. manufacturing and industrial markets.