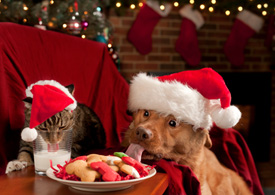 As the resident behavior sage and noted Christmas expert, I have collected some energy-saving tips from the Santa's helpers here at ACEEE on how to have a low impact, low stress, energy-efficient holiday season. Yes, Virginia, you can have holiday cheer and save money, too!
In order to qualify for inclusion in this blog post, ideas had to take into account saving ALL of the above, since the last thing you want to do in the middle of the already stressful holiday season is make more decisions and trade-offs. We here at ACEEE want to enhance your holiday season, not detract or deprive, so before you do anything else, take a moment to make yourself cozy. If you can, go pull on a sweater and put on a pair of comfy flannel pajama pants before rejoining me here. Don't forget your slippers! They may sound old fashioned, but they can really help on a cold morning; my favorite pair has the dual function of also cleaning the floors.
Hallway
On your way back from changing, stop in the hallway and set your thermostat to between 65-68 degrees Fahrenheit; with a sweater on, it will feel just right. If you have a programmable thermostat, now is a great opportunity to check that it is set to 'program.' If you never set it up, this is a good time to do it; missing manuals can be re-accessed on the Web—just use the name of your manufacturer and the model number. Set up a schedule that reflects your family's daily activities and preferences, keeping in mind that you can always over-ride it for a temporary boost when Aunt Zelda comes to visit. In my home I keep the following things in mind for maximum comfort while still reaping savings in dollars:
Weekends are different from weekdays—folks go to bed later and get up later, so make sure the heat kicks on or off later. On weekdays, heat (or A/C in summer) kicks off no later than 11:00 pm, time for bed! On weekends, I keep it going a bit later. In the mornings, when you are sleeping in, have it set to just before you typically wake up.
On work/school days, set the heat to kick on a few minutes before the earliest riser. I also put a couple of lamps on timers so people are not stumbling through the dark, plus this saves turning them off when you are leaving the house. As an added tip, I use an automated coffeemaker, so we wake up to a warm, lighted house complete with hot beverage. It helps you ignore the fact that your thermostat is set to 60 degrees while you sleep!
Kitchen
Now, with your comfy clothes on and having set your thermostat, let's wander through the rest of your house, setting a low impact holiday mood. In the kitchen, I keep my lesser-used appliances on a power strip tucked neatly out of sight behind them, so I can turn them off and reduce vampire load. Onto this, you want to pull out and plug in your crockpot, fill it with apple juice, and add a couple of cinnamon sticks and a few orange slices, et voila! Hot apple cider for sipping, and the fragrance fills the room.
Once you have dusted off the crockpot, consider using it more often than your oven. A crockpot sips 200 watts at its peak, while your oven cranks up to 2900. If you have to use the oven, save energy by baking all your Christmas cookies at once (or back-to-back batches), maximizing the efficiency of your oven (saves on having to pre-heat multiple times).Any electricity you use ultimately converts to heat, which may not sound so bad in winter, but in summer it just makes your air conditioning unit run harder. For more energy efficiency cooking tips from ACEEE, click here.
Living Room
Cider in hand, wander into the living room to play some music and decorate your tree. Turns out this is a tough call, whether it is more efficient to use your computer to play Pandora or your LCD television to play the cable company's seasonal tunes. Since your television (even at rest) is one of the biggest energy users in your house, your computer is a better bet. Even better, however, says elf Jacob:
If you have a dedicated stereo system, it will likely draw less power than your TV or computer. However, with those devices, use your best judgment. Large surround-sound systems may draw more electricity than a stand-alone LCD TV or laptop.
O Tannenbaum, what a complicated tale you weave us, with the choice to go fresh or artificial! The choice is not as clear cut as one might wish for. It seems to come down to longevity, and if you click on the last link they write:  
[A] life-cycle analysis conducted in Canada found that you'd need to use your fake tree for 20 years for it to be considered more environmentally friendly than your yearly evergreen.
For myself, I personally got tired of driving and paying every year. So I plumped for an artificial tree lit with LEDs. I figure if I keep it for 30 years, I have amortized the cost down to about a dollar a year, as opposed to $20.00 every year. I was also inspired by this woman, who has used the same tree for 82 years! If you can't see yourself making that kind of commitment (she plans on willing it to someone), then opt for a fresh-cut or live potted tree.
Other Rooms, Other Choices
In the bedroom, keep cozy by piling your thickest blankets onto the bed; that way you won't even notice when the heat kicks off for the night. For the bathroom and other water heating need, turn down your heater to 120 degrees Fahrenheit. It is plenty hot enough to shower in and will save you money when your visiting teenaged niece hogs the bathroom. The dishwasher has its own heating element, and so keeping the water scalding hot does not do anything helpful there (psst, click the rocker button over to 'energy saver') and most of your clothes washing should be done on the tap/cold setting.
Shopping and Gifts
As you may have noticed, in this blog I am using the term 'low impact' to mean 'don't go buying things in order to become green.'  Just as the cheapest kilowatt is the one you never use, so too the lowest impact choice environmentally and financially is LIKELY to use the product you already own efficiently.  Similarly, while the holidays are geared towards gift-giving, nothing says you have to BUY the gifts. Elf Marianne made the following suggestions:
My daughter made bath salts and knit items. I've made wreaths and ornaments. Baking is fun both to do and to give. Hard to do this now but we've used nature to make maple syrup, lavender sachets, pickles and other foods. Giving a coupon for a delivered home-cooked meal is always a nice idea or making up a basket of food. You won't use more gas since you're at the grocery store anyway and it's less likely to get thrown away.
If you have your heart set on buying gifts, then elves Eric and Maggie offer up the information that, all things taken into account, buying online will be more efficient and result in lower emissions than a trip in the car to the mall (not to mention less stressful).  When it is time to get your gifts to their destination, elf Amanda says to "try to avoid shipping presents overnight at the last minute... not only is it expensive, it's the most energy-intensive mode of shipping."
Whatever you choose to do, and however you spend this holiday season, we here at ACEEE wish you peace and a Happy New Year!