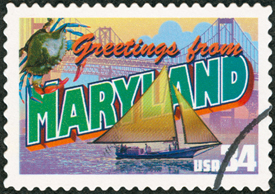 Maryland has some of the most aggressive energy savings laws in the nation. The state's commitment to energy efficiency offers a host of benefits to Maryland's local economy, including consumer energy bill savings and job creation. 
Maryland is outpacing national private sector job growth five times over, with many of these new jobs in the construction sector. Energy efficiency jobs are contributing to this growth. For example, a small contracting business called Total Home Performance has hired as many as six new people as a result of Maryland's efficiency programs and the company's work for private homeowners has grown from 20% of its total business before the Maryland programs to 60%.
Two of the ways the state is working to reduce energy costs and support continued job growth in this sector are the Maryland Home Energy Loan program (HELP) and Home Performance Rebate program. Both programs help homeowners pay for upgrades to their homes that reduce energy costs. The HELP program has proved particularly popular and despite several budget increases is now out of funds. Fortunately, the state's utilities have proposed to fill the gap, if the state utility commission approves.
Not only do these programs support jobs in the construction sector, but they function similarly to a tax credit by stimulating economic growth. The money that homeowners save on their reduced utility bills gets reinvested in the economy, supporting local businesses and jobs. 
Maryland's efforts are paying off. The 2011 ACEEE State Scorecard ranked Maryland 10th out of all 50 states plus the District of Columbia, and Maryland was recognized as one of the most improved states in the nation for its efforts to save energy.
Part of what is driving Maryland's innovative programs is the EmPOWER Act, a law adopted in 2008 that requires the state to reduce per capita electricity consumption by 15% by 2015. While more than half of states have experience with energy savings goals, Maryland's goal is one of the most aggressive. Under the law, utilities in the state are required to submit multi-year plans that show how they will achieve the required energy savings. Unfortunately, the plans submitted so far won't get them there. The plans leave cost-effective energy savings untapped and will fail to meet the 15% goal by 2015.
With the EmPOWER Act and energy savings programs such as HELP and the Home Performance Rebate program, Maryland lawmakers have laid out a path to reduce energy costs for homeowners and businesses, improve the state's building infrastructure, protect its valuable energy resources, and support private sector job growth—all of which will help to make it an even better place to live. Solid policies are laudable, but actual implementation is paramount. As decision-makers in Maryland debate how to implement the EmPOWER Act, we hope the state fully harnesses the energy efficiency resource to power economic growth for years to come.