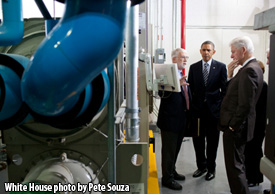 President Obama took an important step forward last Friday by announcing nearly $4 billion in combined federal and private sector energy upgrades to buildings over the next two years. This investment would help boost the economy and create jobs for Americans. As we've described, energy efficiency can play an important role in the economic recovery by supporting higher levels of employment through investments that more than pay for themselves through the resulting energy bill savings. Jobs are created not only through the initial investment, but also from energy bill savings being spent in other sectors of the economy for the life of the investment. As former President Bill Clinton recently noted, "It's the nearest thing we got to a free lunch. And the return is very high. For every billion dollars you spend on building retrofits, you get between 7,000 and 8,000 jobs."
The economic benefits of energy efficiency investments were underscored when 60 public and private leaders joined the President to pledge $2 billion in private capital. As ACEEE research has shown, and is also being demonstrated by these investors, energy efficiency investments are not just good for the economy, they also offer attractive returns.
The President's commitment of $2 billion for energy savings in public buildings is also particularly important now because government budgets are tightening, and the energy bill savings that result from energy efficiency improvements will free up precious tax dollars. These investments will also be cost-effective from the very beginning. By using energy savings performance contacts (ESPC), which have proven to be effective at federal, state, and municipal levels to pay for the projects from energy savings, the President can direct federal agencies to use the ESPCs without the need for up-front investments.
President Obama's announcement represents a down payment on DOE's Better Buildings Challenge of making American buildings 20 percent more efficient by 2020. The $4 billion invested over the next two years will result in savings that we hope will be reinvested over the remainder of the decade, helping to meet this goal and making the U.S. economy more robust.