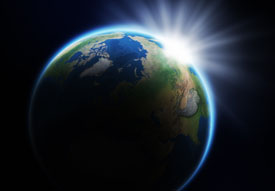 Yesterday was the 42nd anniversary of Earth Day, but as we are often reminded, every day is Earth Day. And it's not too late to do your part to reduce pollution by saving energy, while at the same time saving money by cutting down your utility and gas bills. Spring is a great time to make some changes around your home; here are some simple things you can do today:
During your spring cleaning, don't forget to change the filters in your air conditioners. There may be leaks you can't see so consider a home energy audit—your utility company or state energy office can help.
While you're cleaning, consider replacing your old light bulbs with energy efficient compact fluorescents (CFLs), halogen incandescents, or light-emitting diode (LED) bulbs. Traditional incandescent bulbs, besides costing you more money and creating more pollution, generate a lot of heat, which you won't want during the summer months.
Search your house for "vampire loads"—all those gadgets and electronics in our homes use a significant amount of energy, even when we're not using them. Cut down on these "vampire loads" by unplugging electronics when they're not in use. Sound like too much work, or worried you'll forget? You can put certain electronics (say, your TV or DVR) on power strips so you can shut down many at a time or on timers so that they're only drawing energy during the hours of the day you'd normally use them. "Smart" power strips are also available that sense when a "master" device like a TV is off and turn off associated devices like a game console.
Take the time to change the oil in your car. In addition to making your car or truck last longer, replacing the oil and oil filter regularly will also help fuel economy. Check your owner's manual for specific recommendations about how often to change. Ask the service station if it recycles used oil, or if you do it yourself, take your old oil to someplace that does recycle. Ask for recycled oil as a replacement.
Think about replacing your tires with low-rolling-resistance (LRR) tires. Switching to a typical set of replacement tires lowers a vehicle's fuel economy as much as 4 percent. LRR tires, on the other hand, are specially designed to improve a vehicle's fuel economy. Most major tire manufacturers now produce LRR models, so when it comes time to replace your tires, seek out a set of LRR tires.
If you are looking for some more extensive ways to make your home more energy efficient (while improving its value), talk to your utility company. Many utilities are now offering low-cost financing for home energy improvements. Some utilities even allow customers to repay financing for improvements such as insulation, sealing, heat pump replacement, and appliance installation with the energy saved, and place the charge on your monthly utility bill. Often, these on-bill financing (OBF) programs will offer a free energy audit. So, check with your utility to see if they have any energy audit or financing offers available.  You may be surprised at how cost-effective it is to improve the comfort of your home and the health of the planet at the same time.
To learn about more energy efficiency recommendations, including more tips to reduce summer cooling costs, see our Consumer Guide for Home Energy Savings.