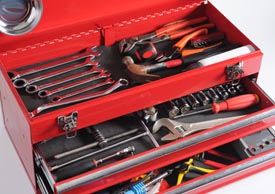 ACEEE has collaborated with state and local stakeholders for decades, arming them with valuable, up-to-date resources on energy efficiency to facilitate effective program and policy development and deployment. Recently we developed our State and Local Technical Assistance Toolkits in order to meet state and local governments' disparate and often immediate needs for relevant resources on all things energy efficiency. Whether providing best-practice program design or policy approaches, ACEEE's tools have been developed out of our experience working with policymakers and program managers. Our resources are intended to provide a solid foundation for achieving lasting energy savings and stimulating economic growth through energy efficiency.
In the absence of current federal leadership, the challenge of developing and implementing prudent energy policy has increasingly fallen on the shoulders of our state and local governments. Many have shown laudable initiative, enacting laws and designing programs that will make homes and buildings more efficient and communities cleaner and more livable, while others have lagged behind. State and local governments often lack the financial capital and technical resources to design and implement energy efficiency policies and programs. A fundamental need also exists to educate stakeholders (such as state legislatures and city councils, non-governmental organizations, and, perhaps most importantly, consumers) about energy efficiency and its myriad benefits. Resources from ACEEE's State and Local Technical Assistance Toolkits are designed to meet these various needs, providing stakeholders with tools ready for immediate use in policy and program development and implementation.
This month, ACEEE releases two new tools for its State Technical Assistance Toolkit. These new tools address on-bill energy efficiency financing programs and self-direct programs for industrial and large-scale commercial customers.
On-bill financing (OBF) is a method of encouraging investments in energy efficiency by home or business owners by leveraging electric and natural gas utilities' unique relationship with their customers to provide convenient access to funding. OBF reduces one of the structural barriers to efficiency upgrades—up-front capital—by allowing utility customers to "borrow" funds to invest in energy efficiency improvements and repay the financing through an additional charge on their utility bill. If structured properly, an on-bill program can substantially reduce the cost of, and improve access to, financing. In many cases, the product can be "bill-neutral," meaning that the energy savings are sufficient to cover the monthly payments for the financing, so that the total monthly charge on the utility bill is less than or equal to the pre-investment amount. There are several barriers to adoption of this financing mechanism such as the costs associated with complying with consumer lending, and the perception that utilities must act outside their business model to provide these services.  For more on this topic, click here.
Self-direct programs target industrial and large commercial operations—facilities that are sometimes underserved by traditional utility-financed energy efficiency programs due to their unique energy use characteristics. These customers sometimes advocate for alternatives to traditional energy efficiency programming, and as a result many states have developed "self-direct" or "opt-out" provisions that allow these customers to either self-direct their energy efficiency fees (embedded in rates or as a surcharge on a utility bill) directly into energy efficiency investments in their facilities, or opt-out of paying their energy efficiency fees altogether, with no corresponding obligation to make investments in energy efficiency independently.
Like other utility system resources, energy efficiency is a resource that benefits all users; therefore, energy efficiency should be paid for by all users. Unfortunately, the absence of industrial and large commercial customers paying into energy efficiency programs greatly reduces the potential system-wide benefits that can be generated through efficiency. While self-direct programs, if properly structured, can be effective tools to capture industrial and large commercial energy efficiency, and can help overcome long-standing barriers to greater energy efficiency for these customer classes, opt-out programs are never appropriate policy tools for doing so. For more on this topic, click here.
Other Resources
ACEEE's State and Local Technical Assistance Toolkit provides informational resources on programs and policies currently being implemented, such as utility performance incentives for energy efficiency and tools for deciding what policies best fit a particular jurisdiction. Each resource provides readers with links for more information and additional technical assistance documents. The Toolkits are works in progress and are continuing to evolve as we identify additional policy and program needs. If you do not find the tool you need in the current offering, please let us know so we can consider addressing it in the future.