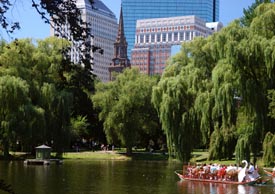 This month, ACEEE hosted its 6th Annual Energy Efficiency Finance Forum in Boston, Massachusetts. The event was attended by 250 representatives from utilities, banks, venture capital firms, energy efficiency program offices, real estate firms, nonprofit organizations, consulting firms, and state and local government offices. Participants enjoyed a rich program that featured presentations centered on this year's theme of "Getting to Scale."
Some overarching ideas from this year's conference include:
Data, data, data: There are numerous models for energy efficiency financing available on the market today, but in order to tap into the full potential of private sector capital investment, we need to focus on not just collecting but meaningfully recording and reporting data on the financial performance of existing products. Perhaps more importantly, there is a need for standardization of existing data.
Kerry O'Neill, of the Clean Energy Finance Center, during a panel on developing a secondary market for energy efficiency finance, also suggested that the field may be missing a data aggregation platform. There appear to be many opportunities for leaders in the field to dialogue and coordinate efforts on this particular issue.
There is also some debate surrounding the role of energy savings data in attracting secondary market finance. While many in the utilities and efficiency professionals see great value in these data, we need to do a better job of describing and proving its value to the finance community and other new actors in this space.
Treatment of the multifamily market: Many conversations centered on unlocking the potential of the multifamily market. A recent CNT/ACEEE report highlights the potential of this market where cost effective upgrades could achieve energy savings of 15-30%. It also highlights challenges such as the split incentive barrier.
There appears to be some consensus that this market segment shares some commonalities with both the large commercial and residential markets. It is likely that tools such as on-bill financing can be specially tailored to address some of the issues specific to this challenging but high potential market. Programs such as the MPower Program, highlighted by John Warner of Blue Tree Strategies during a panel discussing financial innovation for underserved markets, leverage elements of on-bill programs with energy service charge models to provide an innovative delivery model to the multifamily sector.
Sadie McKeown, in that same session, touched on the idea that incorporating energy usage into the valuation of physical spaces could further drive financial innovation. It appears that there is potential to engage philanthropic interest in this sector to develop financing that values co-benefits from energy efficiency investment including preserved affordability, indoor air quality, and other health and safety improvements in addition to energy and cost savings.
Making the most of retail solutions: The field of energy efficiency finance still appears to be in a period of experimentation, with few one-size-fits-all solutions. As one panelist noted: "there are no silver bullets, only silver buckshot." While large financial institutions can only commit to projects that have achieved a certain level of scale, it is still very important to continue to develop and evaluate versatile new program designs at the local level, which may become tomorrow's best practices. In order for best practices to achieve the momentum to scale up, local lenders will play a critical role in financing smaller projects. In addition to providing capital, these institutions also possess the knowledge and experience to assist program administrators with risk management, and can play an important role in defining energy efficiency as an asset class.
Presentations from the event are available on ACEEE's website. Many thanks to our co-chairs, sponsors, and speakers for making this year's event a great success!