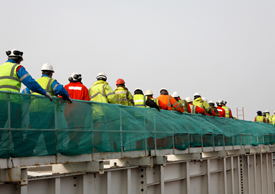 Although Congress has been unable to pass comprehensive energy and climate legislation so far, there is hope for energy efficiency legislation in the not-too-distant future. Energy efficiency is cost-effective and has the potential to give the economy a boost. And importantly, energy efficiency has bipartisan support.
This week, ACEEE released a white paper analyzing two pending energy efficiency bills: the Energy Savings and Industrial Competitiveness Act of 2011, which was introduced by Senators Jeanne Shaheen and Rob Portman, and the Implementation of National Consensus Appliance Agreement Act of 2011 (or INCAAA), which was introduced by Senator Jeff Bingaman. 
The Shaheen-Portman bill contains a variety of provisions designed to increase energy efficiency in the residential, commercial, and industrial sectors of the economy, such as establishing centers to train building engineers and technicians in energy-efficient methods, and a loan program to support industrial energy efficiency. INCAAA establishes new and revised efficiency standards for a variety of common household and commercial appliances based on consensus agreements between product manufacturers and energy efficiency advocates, including ACEEE.
Together, these bills would result in important energy savings. If these bills are implemented, we estimate that by 2030 our primary energy consumption would be reduced by over 2 quads per year—approximately the annual energy consumption of the state of Tennessee—reducing our CO2 emissions and our reliance on foreign fossil fuels. These savings would also mean that American consumers would save about $70 billion (net present value) in reduced energy costs over the 2012-2030 period.
In the current economy, job creation is a major concern. We estimate that together these bills would support about 93,000 jobs in 2020 and over 178,000 jobs in 2030. Jobs will be created directly and indirectly from projects resulting from the provisions (for example, in the construction sector and in the industries that support it). Furthermore, the resulting energy bill savings will free up the funds to support additional employment throughout the economy.
These benefits would come at minimum cost to the federal government since both provisions would be funded and implemented overwhelmingly by the private sector. We estimate total appropriations for these provisions to be about $600 million for the entire 2012-2030 period—a drop in the bucket, considering that the total federal budget for domestic discretionary spending for 2010 alone was over $600 billion.
These two bills represent an important first step toward implementing policies needed to maximize our use of available cost-effective energy efficiency resources to create jobs and save Americans money.