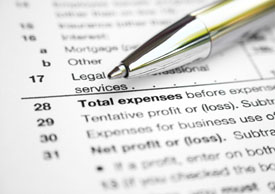 There is substantial talk in Washington about tax reform being a key issue for 2013. Generally this is perceived to mean simplifying the tax code by scaling back tax deductions and credits, and using the money saved to both lower marginal tax rates and help lower the federal budget deficit. In such a climate, where do energy efficiency tax incentives fit in? Such incentives have been in place in varying forms since 2005, and several that recently expired may be extended at the end of this year. The Tax Incentives Awareness Project has information on current incentives.
However, while tax breaks are likely to be scaled back, not all will be eliminated. Funds for tax incentives will be limited; therefore, it makes sense to spend limited funds in ways that produce maximum long-term impacts. To help with such discussions, ACEEE has just released a working paper entitled Targeting Tax Incentives to Maximize Impact and Minimize Costs.
In this paper, we review the results of past energy efficiency tax incentives, both over the past seven years, as well as during the 1978–1983 period. We find that the most effective incentives in leveraging long-term energy savings were those that promoted advanced technology and practices which had low market shares when the incentives were enacted, but that supported growing market share so that markets could be permanently transformed. When markets are transformed, incentives can be either phased out or revised to promote even higher efficiency levels. For example, the new homes and appliance tax incentives were particularly effective in spurring a much higher market share for qualifying homes and appliances, and in the case of appliances, have led to a permanent transformation of the market as levels that were promoted by tax incentives in 2005 are the foundation for the recently finalized appliance efficiency standards taking effect in the next few years. Credits for heavy-duty hybrid vehicles, furnaces, air conditioners, and heat pumps have also been effective in spurring product introductions and increased market share. 
Based on this experience, we recommend that future energy incentives:
Target energy-saving equipment and practices with substantial energy savings (we want "mountains" not "molehills");
Target efficiency levels and new energy sources that currently have a very small market share to keep costs down and minimize the number of "free riders";
Pay substantial incentives to motivate significant sales; and
Remain in place for a medium period of time (e.g., five years) so manufacturers and other market players know incentives will be available long enough so that it is worth making investments.  Short-term incentives do not provide such assurance. After this medium period of time, incentives should either be phased out or eligibility levels increased, starting a new market transformation process.
In addition, for measures that are expensive and for which quick market transformation is not possible, such as comprehensive home and commercial building energy efficiency retrofits, we recommend considering a  transition to repayable incentives after the initial five-year incentive ends. Repayable tax incentives are a way to limit long-term costs to the Treasury by requiring recipients to repay the incentive over time as benefits are realized. The initial credit helps reduce the upfront cost of the investment, and the latter payments reduce the cost to the Treasury. For example, if a business receives an initial tax credit of $100,000 on a combined heat and power system the year the system was placed into service, they might repay the federal credit at the rate of $20,000 per year over the next five years. The initial credit encourages the investment, and the subsequent repayments channel the value of some of the energy bill savings back to the federal government so that the long-term cost to the federal government is very low— just defaults plus interest costs. Essentially, this would be a zero-interest loan. 
To help guide how to put these principles into action, our new working paper includes an analysis of the costs and savings of a five-year federal tax credit for high-efficiency products and services, including estimated effects on the market for these products and services over the following decade. We find that incentives for new homes and commercial buildings; comprehensive retrofits to existing commercial buildings; new appliances; heating, cooling, and water heating equipment; and combined heat and power systems are particularly cost-effective, with a federal cost of 2–36 cents per million Btu of energy saved, far less than the approximately $10 per million Btu we now pay for energy. If only all federal programs were as cost-effective!
Based on this analysis, we recommend that a specific budget be developed for energy-related tax incentives and that this budget be allocated in ways which maximize benefits per dollar of federal expenditure. Based on our analysis we think that modest medium-term federal energy-efficiency tax incentives that help leverage long-term changes in markets are among the items that maximize "bang per buck" and should be included as part of tax reform.