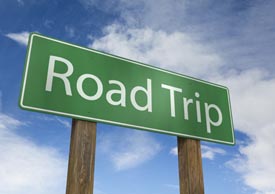 Temperatures are rising, humidity is increasing, and the ACEEE Behavior crew decided that July was the perfect time to conduct research across the deepest of the Deep South. Laissez le bon temps rouler is our battle cry as we fan out to talk with folks about their everyday energy usage. We are tackling a variety of topics in several sites across the South including:  Alpharetta, GA; Oneonta, AL; Corinth, MS; and The Big Easy itself, New Orleans, LA. In each site, the team will be chatting with folks from different sectors of society about particular issues related to energy use in homes, small businesses, and agriculture. 
I am headed to Alpharetta and Corinth, to talk with homeowners about energy retrofits, and Main Street retailers about comfort and air-conditioning, respectively. Around the same time, our industry program research analyst Kate Farley and anthropologist Sarah el-Hattab (UMD College Park) will be visiting farms in Oneonta, AL, to interview people about their implementation of 'intelligent efficiency' in their agricultural practices. Meanwhile, in New Orleans, I will be meeting up with anthropologist Pat Huff from the University of Georgia, who will be assisting us with interviews with low-income residents about their ability to access weatherization assistance. Pat, who is in the doctoral program at UGA, has been working as an ethnographer in New Orleans since 2007, and already produced an impressive master's thesis about post-Katrina volunteerism, "Movement Against Disaster."
There is one more site associated with this project, though it is not 'officially' in the South – Michelle Vigen and I will be attending the Great American Truck Show in Dallas, TX, late in August. There we will be conducting intercepts and having short talks with trucking owner-operators about vehicle purchase decision-making, and their interest in new redesigns for body and engine. Come see us in our booth, where Michelle has promised to don a pink cowboy hat!
We are really proud of the way this research is coming together, after a long winter and spring of planning and logistics. Hopefully, the data we collect will be helpful in illuminating the relationship between the policies that are enacted at the state level and the choices people make with respect to energy consumption (primarily—though not exclusively—electricity) in their homes and businesses. This type of research is called contextual inquiry because it is based in grounded theory. The information you get from such case-study type investigations is highly valid, though not reproducible.  Our research design has been built around several theoretical 'backbones' and we have developed sets of hypotheses for each of our sites/studies that will be shaping the kinds of questions we will be asking, and the data we will collect through observation.  Once we have several different types of data, including interview, survey, and demographic, we will be coding it, analyzing it with programs such as SPSS, and interpreting the results.
If all of this interests you, please keep up with our blog posts as we produce the report around the end of this year! In the meantime, I will be enjoying some traditional southern treats, including boiled peanuts and slugburgers!