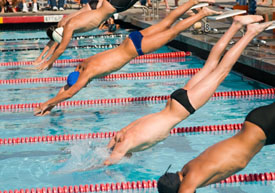 ACEEE recently published a report ranking the energy efficiency of the world's 12 largest economies. Unfortunately, the U.S. isn't even in the running for a top spot. With a long history of energy efficiency advocacy and a supportive administration in the White House, I frankly thought the news would be better. Though there have been a few high points (for example, appliance standards and new vehicle fuel economy standards), the overall story is not good. The U.S. came in 9th overall. Yes, out of 12. 
While the U.S. results aren't great, the "glass half full" here is that the U.S. has a lot of room for improvement. This would mean making the economy lean, mean, and more globally competitive—the Gabby Douglas of economies, the Michael Phelps of global competitiveness. Reducing energy waste is good for business and consumers. Reducing energy costs is good for the economy and reducing the air pollution associated with power generation is good for those of us who breathe air. Now is the time for the U.S. to dig in and improve its prospects by taking a lesson from some of the successes of other countries. The United Kingdom has adopted a national energy savings target of over 1% per year through 2016. Russia is requiring auditing and labeling of energy use in buildings. The Italian government supports a revolving loan fund for energy efficiency and provides incentives for improvements in the efficiency of motor vehicles. Germany offers incentives for deployment of combined heat and power systems and China targets heavy energy users in the industrial sector with specific energy conservation procedures.
Congress is considering legislation that will improve energy efficiency in a number of ways and Senator Kerry is slated to introduce a bill that includes a national energy savings standard.* Federal tax reform is another opportunity to realign financial incentives by allowing people to keep more of their income and instead taxing energy waste. In addition to congressional activity, federal agencies have taken action to encourage energy efficiency.  Significant opportunities exist and the untapped energy efficiency potential is massive. It remains to be seen whether the U.S. will cross the finish line as a leader or if these opportunities turn out to be just another false start.  
* This statement was made in error. We regret the mistake.