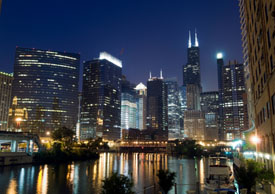 Prominent policy experts on The Alliance to Save Energy's Commission on National Energy Policy agree that one of the keys to increasing energy efficiency in the United States is growing the market for energy efficiency financing. Given the President's recent State of the Union challenge to cut in half the energy wasted by our homes and businesses over the next twenty years, now is a critical moment to overcome cost and structural barriers to energy efficiency investment. Fortunately, we are experiencing a period of rapid innovation and experimentation in energy efficiency finance. Over the past several years, numerous strategies and mechanisms for reducing upfront cost barriers to energy efficiency have emerged and are experiencing increased popularity and adoption.
For financiers, the investment potential is significant. The Rockefeller Foundation and Deutsche Bank estimate that private sector entities could invest more than $279 billion across the buildings sector. They estimate such investment would generate more than $1 trillion in energy savings over 10 years and create 3.3 million jobs.
Yet, there are still many questions that need to be resolved in order to drive adoption and scale the market. For instance, how do we design and market programs that overcome split incentives in commercial and multifamily buildings? Can we structure attractive products that will drive customer demand? How do we aggregate data and information to enable and attract institutional investors to purchase energy efficiency financial products on a secondary market?
Want to join the conversation? On May 13-15, ACEEE will host its 7th Annual Energy Efficiency Finance Forum at the Drake Hotel in Chicago, Illinois. Cutting-edge programs such as Retrofit Chicago make the city our kind of town. The event is designed specifically for investors, financiers, utilities, and policymakers, and explores the latest opportunities in financing and investing in energy efficiency. Over the past six years the conference has grown to become one of the premier venues for networking and discussing energy efficiency financing policies.  Registration is open, so mark your calendar!