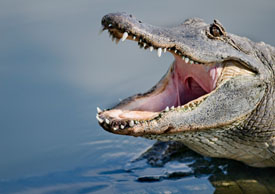 Last Wednesday was a sad day for energy efficiency in Louisiana, and customers will end up paying the price. In a sudden move, the Louisiana Public Service Commission (PSC) voted to overturn their newly-adopted energy efficiency rules enacted in December of last year.
The rules from December set up a framework for improving energy efficiency in homes and business around the state, and were a result of several years of hard work and careful consideration by the PSC staff and numerous stakeholders involved in the process. As written in the order, the PSC staff "found a general consensus that [energy efficiency] can provide benefits to both utilities and their customers." Indeed, energy efficiency is the state's least costly and least risky energy resource. The rules established guidance for "quick-start" energy efficiency programs to be offered by electricity and natural gas utilities in the state over the next two years, following a similar model to Arkansas. By overturning the rules, Louisiana falls further behind its neighbor on energy efficiency.
Customers Benefit from Energy Efficiency in Lower Energy Bills
Louisiana residents and businesses will get hit the hardest with this disappointing announcement. The two-year quick-start programs would help customers save money through upgrades such as adding insulation to their homes or replacing old, inefficient air conditioning systems. ACEEE estimates this would mean millions of dollars in net energy bill savings. To put it in more local terms, a residential participant in the program would save hundreds of dollars on his or her annual energy bill. And all customers would benefit because energy efficiency is a cheaper investment compared to building new generation or transmission lines. ACEEE is working on a statewide energy efficiency potential study for Louisiana, which will provide more detail on the benefits of energy efficiency policies and programs in the state.
Some commissioners are concerned that the costs of the efficiency programs will be onerous to small businesses, but this notion is a common misconception. In fact, energy efficiency can help businesses lower their energy bills! Efficiency programs are not free---but the investments quickly pay for themselves and then much more. Energy efficiency is the least-cost, least-risk option compared to other energy resources and should make up a sizeable portion of a well-diversified energy portfolio.
Energy Efficiency has Bipartisan Support
Recently, the Bipartisan Policy Center released a series of energy policy recommendations, which focuses largely on potential energy efficiency gains. There's a reason why energy efficiency earns bipartisan support---it has a proven track recordof success. Oklahoma Governor Mary Fallin has supported energy efficiency measures to deliver a government to her constituents that is "smarter and more cost efficient," while Massachusetts Governor Deval Patrick's commitment to energy efficiency has earned his state the top score in our Energy Efficiency Scorecard for two years in a row.And they are not the only states racing for higher energy savings. Our scorecard shows many other states and localities continuing to raise the bar on energy efficiency to reap the benefits of lower energy costs and improved economic development. By overturning the recent energy efficiency rules, the PSC is denying Louisiana the chance to enjoy these same benefits.
Looking for a Silver Lining
The City of New Orleans has already seen the opportunities available from energy efficiency and has been helping its residents and businesses save money with initiatives such as the New Orleans Energy Smart Programs. Let's hope the Louisiana Public Service Commissioners follow New Orleans' lead by quickly re-adopting the efficiency rules.