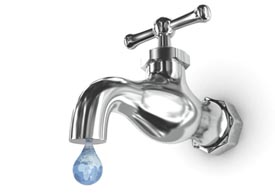 Last week I participated in the U.S. Green Building Council's Water Conservation Showcase as part of a panel on tackling the energy-water nexus. Conference attendees overflowed the room, and after our panel presentation, my fellow panelists and I were surrounded by participants voicing concern about the need for water and energy experts to collaborate and solve challenges relating to program design, implementation, and accounting. ACEEE believes the energy and water communities would benefit from new policy frameworks for integrated resource planning, improved tools and metrics to help administrators measure savings, and more peer-to-peer education to help overcome barriers. The interest in joint programs is high and hunger from program implementers for more information and assistance is strong.
ACEEE is engaged in this cause. Recently we released a joint report with the Alliance for Water Efficiency (AWE), Tackling the Nexus: Exemplary Programs that Save Both Energy and Water, and we also maintain a directory of programs that are successfully saving both energy and water. In May we will be  honoring exemplary programs at the Water Environment Federation's (WEF) Energy & Water 2013 conference in Nashville, Tennessee.
In spite of these efforts, more work is needed. National organizations such as ACEEE are just one piece of the puzzle. Many cities and states care passionately about these issues and are interested in organizing programs. If you'd like to be a part of this process, you can start by:
Reaching out to potential partners to begin a dialog about opportunities that exist in your community;
Looking at the programs you already have that help save water or energy and how they can be linked or expanded to address both; and
Thinking creatively about how some of these efforts might be funded initially.
Once you have a program up and running, please submit it to the ACEEE Water-Energy Program Directory so that we can continue to learn from one another's successes.  
With increasing water shortages and renewed efforts to curb climate change and reduce air pollution, it is time to put the experts in the water and energy communities together to tackle these problems simultaneously.