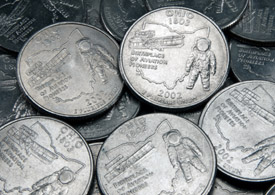 The Ohio Manufacturers' Association (OMA) today released Ohio's Energy Efficiency Resource Standard: Impacts on the Ohio Wholesale Electricity Market and Benefits to the State, a report that the OMA commissioned ACEEE to prepare. This report is the product of almost 6 months of research by ACEEE staff, supported by analysts at Synapse Energy Economics, Inc.
I will be presenting our findings to the Ohio Senate Public Utilities Committee, chaired by state Senator Bill Seitz. Chairman Seitz has initiated hearings on his legislation, Ohio Senate Bill 58, which is intended to review, and possibly modify, Ohio's energy efficiency resource standard (EERS).
Our report finds that the Ohio EERS enacted in 2008 by SB221 has now delivered over 3,200 gigawatt-hours of savings to Ohio electricity consumers over the past 3 years, equivalent to 2.1% of statewide electricity sales in 2011. These utility energy efficiency programs are cost-effectively saving customers electricity beyond the targets set by the legislation, as shown below.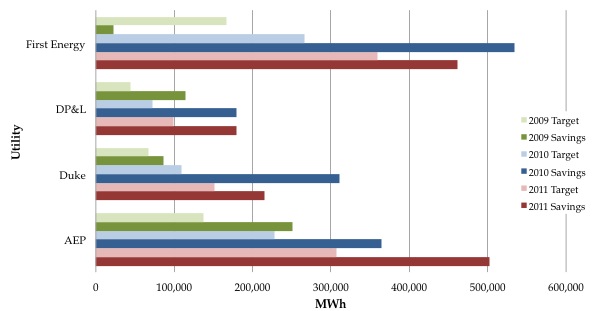 As Ohio transitions to competitive wholesale electric markets going forward, the study finds continuing utility commitments to meeting the EERS targets in coming years could save customers a total of almost $5.6 billion in avoided energy expenditures. We estimate utility energy efficiency program administration costs to be $2.7 billion.
Of the savings, $2.2 billion results from price mitigation impacts that reduce wholesale prices, which in turn reduces bills for both participants and non-participants of utility-sponsored energy efficiency programs throughout the entire energy system.
The value proposition to businesses and manufacturers, participants and non-participants alike, is unequivocal: energy efficiency reduces customer energy costs, both directly through facility efficiency improvements and through downward pressure on market energy prices. Energy efficiency also reduces risks associated with volatile energy markets and, ultimately, enhances the competitiveness of Ohio's businesses.