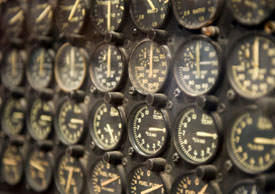 Champions within industrial facilities may be the largest piece missing from the energy policy and program landscape. Some energy program administrators are sponsoring the placement of dedicated energy managers at industrial facilities to overcome the obstacles to energy optimization. These pilot efforts seek to accelerate the pace and volume of industrial energy efficiency projects.
The placement of empowered, professional energy managers is an important contributor to the implementation of industrial energy management standards, policies, and programs. Today, ACEEE released a report that profiles some of the recent programs and identifies the elements that lead to successful models.
To date, energy issues have been largely delegated to technical staffs, which focus on equipment selection and engineering projects. While the technical focus is no doubt crucial, it does nothing to address the organizational barriers that may arise in response to the changes proposed by an energy manager.
The viability of any policy is highly dependent on a visible and motivated constituency. Energy managers can play pivotal roles not just by creating value within their companies, but also by enabling the pursuit of industrial energy efficiency policies of public utility commissions and the goals they set for resource acquisition programs.
Industrial culture provides the durable truism: "you can't manage what you don't measure." This applies especially to all the energy-consuming mechanical systems that populate industrial facilities. Implicit in this truism, then, is the assumption that industry is willing to delegate time and resources to the management of energy and related assets. However, many North American manufacturing organizations are not accustomed to managing energy consumption, and in today's competitive economic environment, companies are wary of adding to their human resource head count. Combine that with the fact that energy is just one of many initiatives competing for management attention and resources, and you can easily end up with energy management not being a priority.
Put another way, managing energy requires change. With change comes the perception of risk. Program sponsorship dispels the perceived risk of wasted time and resources that would result from the unprecedented expense of energy management. In effect, program sponsorship accelerates the learning curve experienced by progressive organizations that secure strategic energy management competencies.
Thanks to companies' experience with pilot programs, some facilities are now hiring and even expanding their cadre of energy managers. By facilitating the creation of energy manager positions, these energy programs are also building the professional population that can become visible advocates for emerging energy policies and provide an important foundation for implementing industry energy management protocols such as the ISO 50001 standard.
Programs that promote industrial energy managers offer the potential to be an important complement to other industrial program elements that enhance project implementation and energy savings. Experience has shown that these managers can more than pay for their salary with identified energy cost savings, so these programs represent a low risk element to supercharge energy savings in the industrial sector.