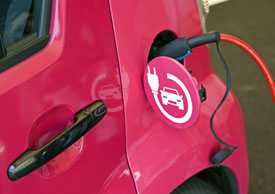 Plug-in electric vehicles (PEVs) have experienced significant growth recently, with sales in the first five months of this year surpassing the total sales in 2012. Recognizing the importance of this technology to the U.S. light-duty vehicle fleet, ACEEE is releasing a new report, Plug-in Electric Vehicles: Challenges and Opportunities, which presents a broad overview of the PEV landscape, including issues from both the transportation and utility system perspectives. It explores the energy and environmental implications of PEV adoption in the United States, and whether and how their use should be promoted.
PEVs present an important alternative technology in a market long dominated by petroleum-powered vehicles. Large-scale adoption of these vehicles into the light-duty fleet would substantially reduce U.S. oil consumption. But the environmental impacts of PEVs are more complex, varying widely with the fuel used to generate the electricity on which the vehicle is charged. On the average grid mix and on a full-fuel-cycle basis, PEVs today offer major reductions in greenhouse gas (GHG) emissions relative to conventional gasoline-powered vehicles (see Table 1). Driving an all-electric vehicle in the northeastern U.S., which uses predominantly hydropower and nuclear power, will result in far lowerGHG emissions than driving even a hybrid-electric vehicle. The reverse is true, however, in the Midwest, which relies more on coal power plants.
Table 1: Annual Full-Fuel-Cycle GHG Emissions of Five Model Year 2013 Vehicles (based on GreenerCars.org calculations)
| | | | |
| --- | --- | --- | --- |
|   | In-Use GHG (metric tons CO2 equivalent) | Upstream GHG (metric tons CO2 equivalent)* | Total GHG (metric tons CO2 equivalent) |
| Ford Focus conventional | 3.6 | 0.8 | 4.5 |
| Toyota Prius C hybrid | 2.4 | 0.5 | 3.0 |
| Chevrolet Volt plug-in hybrid | 1.2 | 2.0 | 3.2 |
| Ford Focus Electric | 0.0 | 2.5 | 2.5 |
| Honda Civic Natural Gas | 2.8 | 1.1 | 3.9 |
* Electricity-related emissions based on average U.S. power generation mix.
Significant challenges stand in the way of widespread PEV adoption. PEV purchase prices are high, although owners will benefit from low fueling costs, as well as a federal tax credit (see Table 2). Insufficient energy density of batteries contributing to limited vehicle driving range in a single charge, limited availability and convenience of vehicle charging, and insufficient PEV models to cover the vehicle market are other major drawbacks for this technology. On the utility side, localized power disruptions could occur in neighborhoods with high PEV adoption due to overloading of distribution transformers. But overall, PEV charging will not represent a major draw on electricity supplies and will tend to improve utility load factor in off-peak periods.
Table 2: Purchase and Fueling Costs of Six Model Year 2013 Vehicles
 

MSRP ($)

Fuel Consumption

5-Year Fuel Costs ($)

MSRP + 5-Year Fuel Costs ($)

With Federal Tax Credit ($)

Gasoline (gal/mi)

Electricity (kWh/mi)

Ford Focus FWD

16,200

0.03

N/A

7,180

23,380

23,380

Toyota Prius C

19,080

0.02

N/A

4,308

23,388

23,388

Chevrolet Volt

39,145

0.03

0.35

3,803

42,948

35,448

Ford Focus Electric

39,200

N/A

0.32

2,246

41,446

33,946

Nissan LEAF

28,800

N/A

0.29

2,036

30,836

23,336

Honda Civic Natural Gas

26,305

0.03

N/A

4,065

30,370

30,370
A wealth of federal, state, and local government policies and programs are in place to support PEV adoption, along with private sector initiatives. At the federal level, policies include the $7,500 consumer tax credit for PEV purchase, grants and loans to automobile manufacturers and suppliers for development of advanced vehicles and batteries, and funding for consumer education and pilot projects for community PEV deployment. Recently adopted federal greenhouse gas and fuel economy rules also strongly incentivize production of PEVs by virtue of these vehicles' value in helping manufacturers comply with the new standards.
These policies and programs will help reduce PEV purchase prices, by both reducing battery costs (see Figure 1) and increasing PEV sales volumes, further reducing PEV prices.
Figure 1: Progress in Battery Cost Reduction and Cost Projections to 2025
As policymakers continue their efforts to bring PEVs into the U.S. vehicle fleet, they should design policies that maximize these vehicles' benefits and mitigate any adverse impacts. Our new report recommends in particular that they ensure that greenhouse gas standards for vehicles reflect full-fuel-cycle emissions, so as to promote advances in both PEV efficiency and clean electricity generation. The report also recommends policymakers develop utility policies that anticipate and address any stresses PEVs may put on electricity distribution equipment and electricity ratepayers, and adopt taxation policies that ensure PEVs pay their fair share (which will be modest) to maintain highway infrastructure.
Whether PEVs become the predominant light-duty vehicle technology or fill only certain market niches will depend upon factors such as future oil and natural gas prices, advances in conventional vehicle and fuel cell technologies, and possible breakthroughs in battery technology. Their role will also be shaped by future energy and climate policies. With proper attention to policy design, the United States can and should position itself to take full advantage of what PEVs have to offer.