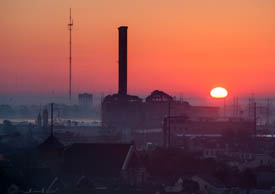 Soon Louisiana could join the majority of states in the nation, including its neighbor Arkansas, in realizing the vast benefits of energy efficiency for its electric and natural gas customers. Last December, the Louisiana Public Service Commission (LPSC) set up a framework for improving energy efficiency in homes and business around the state. The rules were a result of several years of hard work and careful consideration by the PSC staff and numerous stakeholders involved in the process. In February, the LPSC voted to overturn the newly enacted rules. Many advocates for energy efficiency in Louisiana expressed their disappointment with the decision and have worked diligently over the past few months to address the Commissioners' concerns.
Several Commissioners indicated that they were concerned about the cost impact of the energy efficiency rules on small businesses. Last month ACEEE released our analysis of the opportunities for energy efficiency in Louisiana, which responds to many of the Commissioners' concerns. ACEEE research shows that energy efficiency is Louisiana's least-cost energy resource option and could save $4.2 billion in lower energy costs and support 27,100 jobs within the state by 2030. Furthermore, efficiency has been shown in other states to be an effective way to help customers, including small businesses, actually lower their energy costs.
On Wednesday, the LPSC will reconsider its February vote with new information. I will present our study's findings to the Commissioners and hope that our results will address their concerns, and they will join their neighbors Arkansas and Mississippi in embracing efficiency to make energy more affordable to the state's utility customers.
Stay tuned …