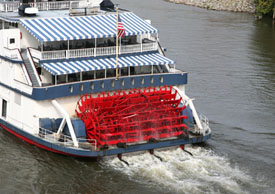 Like the great river that is its namesake, Mississippi has been moving swiftly along on efforts to save residents and businesses money on their energy bills, and as a result is becoming a regional leader in energy efficiency. Governor Phil Bryant, the Mississippi Legislature, and the Mississippi Public Service Commission (MPSC) have all taken major steps recently to improve energy efficiency.
In October 2012, Governor Bryant released a comprehensive energy plan that called for an increased reliance on energy efficiency as a means of economic growth. The plan specifically targeted energy efficiency in public buildings and the need for more stringent building energy codes in the state's commercial sector. Leaders of Mississippi's state agencies, such as the Department of Environmental Quality, have already begun implementing measures to reduce the energy intensity of their operations. The state legislature adopted the latest iteration of the ASHRAE 90.1 energy codes for commercial buildings in April 2013, making Mississippi the first state in the Southeast region to do so.
Arguably the most far-reaching development on July 11, 2013, when the MPSC unanimously adopted statewide energy efficiency rules, which require utilities to administer energy efficiency programs. The adoption of the rules was the culmination of a three-year public participation process and review by the MPSC and its staff. Starting in 2014, Mississippi's regulated utilities will begin offering energy efficiency programs over a three-year "Quick Start" phase, which will allow utilities to slowly build infrastructure and garner experience in program administration. When the Quick Start phase is completed and utility performance evaluated, a "Comprehensive" program phase will begin, a phase that will include the establishment of annual energy savings targets for utilities.
These policy developments are remarkable given that Mississippi ranked 51st on ACEEE's 2012 State Energy Efficiency Scorecard---not even one year ago.. To support Mississippi's efforts through detailed, quantitative analysis, ACEEE is preparing an energy efficiency program and policy analysis, in collaboration with the Mississippi Development Authority's Energy and Natural Resources Division and the Southeast Energy Efficiency Alliance, to be published on September 2013.
Lessons for Louisiana
Mississippi has drawn on the success of energy efficiency programs and policies in neighboring states such as Arkansas, which adopted energy efficiency savings requirements in 2010. Louisiana, however, another neighbor along the Great River, has gone back and forth on energy efficiency measures. While the Louisiana Public Service Commission (LPSC) adopted energy efficiency rules in December 2012, it overturned them in February 2013, and most recently in June re-adopted but suspended the rules pending further review of the details. The state is sitting on a large, untapped potential for energy efficiency, and customers stand to benefit if the LPSC moves forward with strong energy efficiency rules and requirements for utilities. An ACEEE study released in May 2013 finds that energy efficiency is Louisiana's least-cost energy resource option and could save $4.2 billion in lower energy costs and support 27,100 jobs within the state by 2030. With Mississippi's latest steps forward, Louisiana risks falling behind its neighbors on energy efficiency.
Going with the Flow
The progress made by Mississippi and Arkansas is a shining example of how extensive education efforts and participation among stakeholders can advance prudent policies. Mississippi's recent efforts are critical: these policy advancements will spur economic activity and help customers save money on their energy bills. Mississippi's residential customers spend a higher portion of their income on energy bills than any other state in the country. In the interest of economic growth, the state and its utilities must do more to help free up dollars that Mississippians can invest elsewhere. As Mississippi stays the course and reaps the benefits of energy efficiency, other states in the region, like Louisiana, will hopefully take notice and get their feet wet as well.