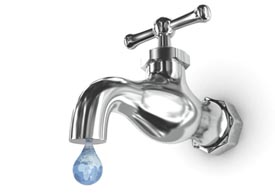 President Obama's speech on climate change back in June specifically called on new and existing power plants to reduce carbon pollution. As the nation considers how to best reduce greenhouse gases from the energy sector we should not leave out the impact of water use on carbon emissions.
Every drop of water consumed is embodied with the electricity that is used to collect, transport, treat and discharge that water. Water and wastewater utilities consume large amounts of energy to treat water—running pumps, motors and building equipment 24 hours a day, 7 days a week—which translates directly to greenhouse gas emissions. As the nation forms a plan for how to reduce power sector greenhouse gas emissions, the link between energy and water use should not be overlooked.
Unfortunately, policies and programs recognizing the link between water and energy are limited. A recent report released by The Alliance for Water Efficiency (AWE) and ACEEE assesses existing research on the nexus between water and energy and identifies research gaps. Filling these gaps would help overcome some barriers to addressing water and energy efficiency jointly and provide resources to make this approach easier to implement.
ACEEE is also working on a forthcoming report which will outline some recommendations for electric and water/wastewater utilities to jointly run efficiency programs. This paper will highlight benefits of, and opportunities for, joint programs in the residential, commercial, industrial, municipal, and agricultural sectors.
To help with efforts to curb climate change and reduce air pollution, experts in the water and energy communities need to work together to tackle climate change while preserving our natural resources and maintaining reliable electricity.