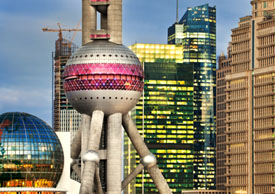 This blog was co-written with Kevin Mo and He Ping, Energy Foundation China.
Today ACEEE and Energy Foundation China released a pair of reports explaining the major components of U.S. energy efficiency programs and policies for the buildings and industrial sectors. The reports are available in both Chinese and English and were written to explain the basics of U.S. policy to Chinese policymakers and researchers as they work to develop and implement appropriate policies for China. However, the reports will also be useful to those new to energy efficiency policy in the United States as they provide the type of background one might get in an "Energy Efficiency Policy 101" type of course.
As the world's two largest economies, there is much that the United States and China can learn from each other. In 2012, ACEEE, Energy Foundation China, and the Global Best Practices Network issued a report in English on Building Energy Efficiency Policies in China. With these two reports we turn to U.S. policy.
The report on the buildings sector covers the following 21 programs and policies:
Buildings Technology Program
State Energy Program (SEP)
Energy Efficiency and Conservation Block Grants (EECBG)
Weatherization Assistance Program (WAP)
Federal Energy Management Program (FEMP)
U.S. Department of Housing and Urban Development Energy Efficiency Programs
Low Income Home Assistance Program (LIHEAP)
Department of Defense Energy Efficiency Initiatives in Buildings
Building Codes
Building Rating and Disclosure
Voluntary Green Construction Codes
Residential Retrofits
Commercial Retrofits
Appliance and Equipment Standards
Appliance Labeling
ENERGY STAR
Utility Energy Efficiency Programs
Financing
Energy Efficiency Tax Incentives
Energy Savings Performance Contracting
Federal Government Support to International Programs/Projects/Initiatives
The industrial report covers more than a dozen topics as follows:
Federal

Research & Development
Financial and Technical Assistance
Regulations, Standards, and Labeling
Tax Incentives

Utility Customer Energy Efficiency Programs
Regional Networks
State Assistance Programs
Centers of Excellence
Local Financing
State and Local Tax Incentives
Non-Governmental Organizations
Trade Organizations
Professional Organizations
To download the reports, click on the following links:
An Introduction to U.S. Policies to Improve Building Efficiency
An Introduction to U.S. Policies to Improve Industrial Energy Efficiency