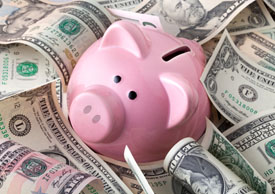 Just before Labor Day weekend, the Department of Energy (DOE) has proposed two strong new energy-saving standards for commercial refrigeration equipment, which would make it cheaper for store owners to keep the drinks and food Americans buy for their cookouts—and year-round—cold and frozen. Large and small businesses will save money with the new standards, and the energy savings will translate into reduced emissions for the environment.
The two new draft standards cover commercial refrigerators and freezers and "walk-in" coolers and freezers found at supermarkets, convenience stores, and restaurants. Supermarkets, for example, use both of these types of refrigeration equipment—they use "walk-ins," which are large, insulated refrigerated spaces, to temporarily store refrigerated and frozen food before transferring it to refrigerated display cases on the store floor. Commercial refrigeration equipment, including the equipment covered by the two proposed standards, consumes about 110 billion kilowatt-hours per year, which is equivalent to the annual electricity use of 10 million U.S. homes.
DOE estimates that a typical refrigerated display case that just meets the current standards uses about 17,000 kilowatt-hours of electricity each year, or about as much as 35 new household refrigerators. The proposed standards would reduce the electricity consumption of this display case by more than 25%, which would save $450 per year on the owner's electricity bills. On a national level, products meeting the new standards over 30 years would net businesses $28 billion in savings and cut CO2 emissions by 350 million metric tons. Now that's a reason to raise a beer at your cookout.
The new standards for commercial refrigerators and freezers can be met by employing a number of measures including higher-efficiency compressors, fan motors, and fan blades; better heat exchangers and insulation; LED lighting; and occupancy sensors that turn off lights in a display case when a store is closed or during periods of low customer traffic. Improved efficiency for walk-in coolers and freezers can be achieved through better-insulated panels and doors, and higher-efficiency refrigeration system components.
Completing these two standards and other new standards is a critical step to meet the President's ambitious goal of reducing carbon dioxide (CO2) greenhouse gas emissions by 3 billion metric tons by 2030 with new energy efficiency standards, while also saving consumers and businesses money. The two proposed rules for commercial refrigeration equipment were each under review by the White House's Office of Management and Budget for more than 18 months—far longer than the 90 days permitted by executive order. However, the administration seems intent on breaking the logjam of overdue standards with these two draft standards, along with a recently released proposed rule for new efficiency standards for metal halide lamp fixtures.
Under a schedule which DOE sent to New York State's Attorney General and others earlier this month, the final standard for commercial refrigerators and freezers is slated to be released in February, and the final standard for walk-ins is due in April.