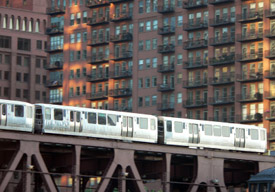 Chicago is making an existing energy-use disclosure ordinance more user friendly for citizens. In the 1980s, the city passed a law allowing potential homebuyers and renters access to utility information for houses and apartments of interest to them. While this gave consumers the opportunity to obtain valuable information on a major cost of housing (one that sets the average U.S. homeowner back about $2,000 a year), few prospective buyers or tenants took advantage of the access that the law provides. Awareness of the ordinance was not widespread, and the process to get the information was slow and cumbersome—not ideal characteristics for a piece of the rental/purchasing process where time is of the essence.
The updated ordinance in Chicago removes many of the limitations in the original law. Leveraging an existing platform for aggregating and summarizing utility information called MyHomeEQ, a personalized energy report can be created and uploaded to the Multiple Listing Service (MLS) website when a home is listed, by simply entering utility billing account numbers for the property. In the past, realtors had to submit an application to each individual utility by mail or fax to receive utility data, a process that could take up to two weeks. By linking to MyHomeEQ, which has already been successfully in operation for a few years, utility bill data is posted within seconds on the MLS for Chicago home listings.
Chicago was able to bring an outdated mechanism for utility bill disclosure up to speed thanks to collaboration among the Mayor's Innovation Delivery team, the Midwest Real Estate Data LLC (MRED), CNT Energy, and the Chicago Association of REALTORS. Examples of success with the passage and implementation of other residential energy disclosure laws has hinged on the collaboration among a number of stakeholders as well.
In Austin, the support of the Austin Board of Realtors (ABOR) for the Energy Conservation Audit and Disclosure Ordinance (ECAD) (which requires an energy audit for single-family homes and small multifamily buildings) has been instrumental in the policy's successful implementation. Realtors already have the tools and position in the market to present information about a home during the time of sale; leveraging this existing infrastructure for getting information out about energy use is vital to successful implementation.
City officials' efforts to bring attention to the energy used in buildings have been increasing in recent years, with a number of cities adopting benchmarking requirements for large-scale public, commercial, and multifamily buildings—in fact, Chicago is now considering a benchmarking ordinance. On the residential side, there are a number of jurisdictions that currently require utility bill disclosure or disclosure of energy efficiency characteristics of a home in the United States. In a recent ACEEE report, Residential Energy Use Disclosure: A Review of Existing Policies, we found that while potential exists for energy disclosure laws to provide valuable information to homebuyers and renters, many of the existing policies are not being used to their full potential.
Our review found 14 state or local laws mandating residential energy use disclosure of some type. For about half of these policies, there is very limited information on implementation and compliance, and anecdotal evidence suggests few homebuyers are obtaining energy use information that they are entitled to under disclosure laws. Chicago's effort to improve an underutilized ordinance presents a model for jurisdictions with existing ordinances that are not as effective as intended. As the first city in the U.S. to include energy costs in home listings, Chicago provides an example of how to leverage existing technology and infrastructure to educate homeowners on the costs of "running" a home.