2013 Champions of Energy Efficiency in Industry Award Winners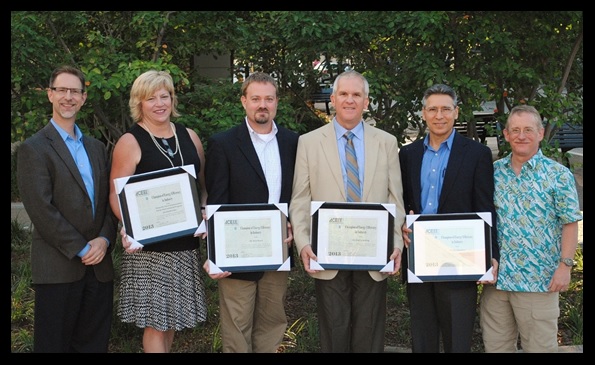 Left-to-right: Ethan Rogers, ACEEE; Jennifer Eskil, Bonneville Power Administration; Rick Marsh, Industrial Energy Efficiency Network; Paul Scheihing, US Department of Energy; Joe Almaguer, The Dow Chemical Company; and R. Neil Elliot, ACEEE.
The 2013 ACEEE Champion of Energy Efficiency in Industry Awards were presented at ACEEE's 2013 Summer Study on Energy Efficiency in Industry at The Conference Center at Niagara Falls in Niagara Falls, NY on July 24.The awards recognized leadership and accomplishment in energy efficiency in the industry sector.
--
Frequently Asked Questions
Click to See Examples of Past Winners from 2011 and 2009
1. Is the nominee supposed to be the company, the chairman, or either?
The nominee can be either, but typically the company. Nominate an individual or entity that most
fully demonstrates or embodies leadership.
2. What are the selection criteria for nominations?
Winners will be selected based on demonstrated excellence in the following categories: 
Research and Development (R&D): Excellence in research and development including baseline or background research, as well as R&D of products and practices.
Energy Policy: Excellence in energy policy including writing, educating, promoting, and supporting energy efficiency in energy policy, at the federal, state, or local level.  
Implementation and Deployment: Effective design and implementation, including achievement of significant impacts on energy use.  
Leadership: Exceptional personal leadership demonstrated in the development, implementation, and growth of important energy efficiency initiatives.
Lifetime Achievement: Continuous demonstrated leadership that produces sustained impacts over time.
3. Must the nominator be unaffiliated with the nominee, or can I nominate someone from within my
company?
The nominator can be either unaffiliated or from the same company. We see many organizations
nominating themselves and this has not had an impact on the likelihood of receiving the award.
4. Are nominations for U.S. organizations only?
Nominations are open to all organizations, but nominees must have a major U.S. presence
and the nomination must focus on their U.S.-based work.
5. Can an organization nominate itself?
Yes, organizations can nominate themselves.
6. Will the award submissions be published anywhere?
The submissions are not published anywhere. ACEEE will issue a press release announcing the
winners and information about the winners will be posted on our Web site. The awards will be
announced and a press release distributed in mid-August.
7. What is the eligibility period?
There is no eligibility period. Nominees may be honored for leadership and achievements within
the recent past, or for lifetime achievement.
If you still have questions, please contact champions@aceee.org