Overview | Program | Presentations | Past Finance Forums
Energy Efficiency Finance Forum Overview
How do you finance energy efficiency? The 2018 Finance Forum explored innovative models that discovered what works, and why. Our dynamic conference provided attendees with the tools and knowledge to get started on financing projects that save money, reduce costs, and create jobs. ACEEE's Energy Efficiency Finance Forum is the only conference of its kind; serving to bring implementers and financiers together to discuss how to scale the industry up.
At the 2018 convening, over 200 participants dove into how to serve rural customers, why the as-a-service model may see spectacular growth in the next few years, and the panoply of financing affordable multifamily homes.
For over a decade, the Finance Forum has brought together a diverse mix of participants including: Clean-tech and energy efficiency investors; financiers; real estate professionals; CDFIs and other mission-driven lenders; entrepreneurs; utility staff; local, state, and federal agency personnel; energy service company personnel; policymakers; NGOs; energy efficiency program planners, operators, and evaluators; and marketing experts.
Presentations
Click on the speaker's name to view the presentation. (Note: Not all presenters provided presentations for us to post for viewing.)
Monday, May 21
1A. RetrofitNY: Financing Models for Net Zero Energy Retrofits of Multifamily Affordable Housing
Moderator: Greg Hale, New York State Energy Research and Development Authority, NYSERDA
Sadie McKeown, Community Preservation Corporation
Susan Leeds, New York City Energy Efficiency Corporation
Chrissa Pagitsas, Fannie Mae
1B. On-bill Market Updates
Moderator: Philip Henderson, Natural Resources Defense Council
Vincent Wynne, Pepco Holdings
Katie Theiss, Arcadia Power
Mathieu Poirier, Dunsky Energy Consulting
1C. Energy Efficiency Financing in Commercial Buildings
Moderator: Matthew Brown, Harcourt Brown & Carey
Paul Mathew, Lawrence Berkeley National Laboratory
Joe Indvik, RE Tech Advisors
Mary Templeton, Michigan Saves
Tuesday, May 22
Welcome, Keynote and Plenary Session
Anmol Vanamali, Vermont Energy Investment Corporation
Matthew Arnold, JPMorgan Chase
2A. Serving Rural Communities
Moderator: Mary Shoemaker, American Council for an Energy-Efficient Economy
John-Michael Cross, Environmental and Energy Study Institute
Mark Wyman, Energy Trust of Oregon
Desiree Sideroff, Craft3
Hannah Vargasson, Natural Capital Investment Fund
2B. Green Bank Evolution
Moderator: Jeff Schub, Coalition for Green Capital
Gwen Yamamoto Lau, Hawaii Geen Infrastructure Authority
Tom Deyo, Montgomery County Green Bank
Paul Scharfenberger, Colorado Energy Office
2C. Multifamily Lending - Panel Discussion
Moderator: Amy Brusiloff, Bank of America
Sadie McKeown, Community Preservation Corporation
Kate Elmore, Community Investment Corporation
Esther Toporovsky, Enterprise Community Partners
Chrissa Pagitsas, Fannie Mae
Moderator: Andrew Nih, Southern Calfornia Gas Company
Alan Elliott, Opinion Dynamics Corporation
Alex Hill, Dunsky Energy Consulting
Kerry O'Neill, Connecticut Green Bank
Miriam Joffe-Block, Calfiornia Alternative Energy and Advanced Transporation Financing Authority
3B. PACE Market Update
Moderator: Greg Saunders, CleanFund Commercial PACE Capital, Inc.
Elyssa Rothe, PACENation
Sean Williamson, US Department of Energy
Jeff Deason, Lawrence Berkeley National Laboratory
Susan Morth, Energize NY
3C. Innovative Multifamily Financing
Moderater: Trenton Allen, Sustainable Capital Advisors
Dan W. York, American Council for an Energy-Efficient Economy
Jeffrey Greenberger and Adler Prioly, Reinvestment Fund
Brian Pine, Commons Energy
4A. Efficiency as a Service
Moderator: Miriam Wrobel, Miriam Wrobel Consulting
Bob Hinkle, Metrus Energy
Paul Bienstock, Citi
Andy Frank, Sealed
4B. Small Business Financing
Moderator: Genevieve Fabela, New York Power Authority
Bruce Torkelson, Lime Energy
Jake Millette, Opinion Dynamics 
4C. Data Standardization: How to Inspire Confidence with Machine Learning, Finance, Insurance, and Real Time Marketing
Moderator: David Tine, HSB/MunichRe
Megan Fisher, New York State Energy Research and Development Authority, NYSERDA
Lauren Salz, Sealed
Michael Burke, CLEAResult
Panama Batholomy, Investor Confidence Program
Program

KEYNOTE SPEAKERS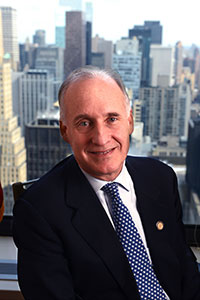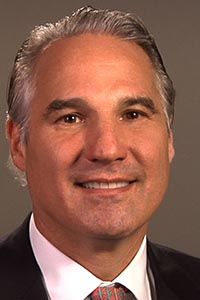 Our keynote speaker on Monday, May 21 was Richard Kauffman, Chairman of Energy and Finance for New York, Office of New York Governor Andrew Cuomo. Mr. Kauffman joined the governor's office in 2013 as the state's first Chairman of Energy and Finance for New York and was known as the "Energy Czar."  Read more
On Tuesday, May 22, we were honored to have Matthew Arnold as our keynote speaker. Matt is Managing Director and Global Head of Sustainable Finance at JPMorgan Chase. He leads the firm's client engagement on sustainability across all sectors globally Read more
            
2018 Co-Chairs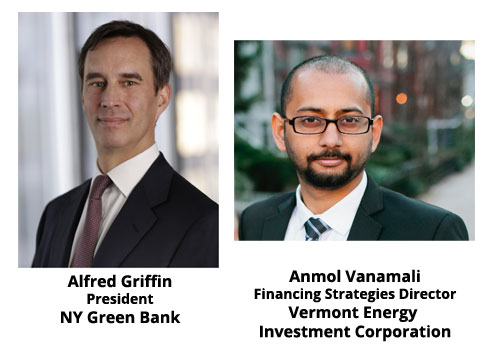 Read more about Alfred's experience here and Anmol's experience here.
2018 Finance Forum Advisory Committee
Zach Axelrod, Arcadia Power
Matthew Brown, Harcourt Brown and Carey
Megan Campbell, Opinion Dynamics
Sandy Fazeli, NASEO
Bob Hinkle, Metrus Energy
Bert Hunter, CT Green Bank
Joe Indvik, RE Tech Advisors
Elodie Michaels, Pegasus Capital Advisors
Yerina Mugica, Center for Market Innovation, NRDC
Dan Reicher, Stanford Law School
Rachel Reilly Carroll, Enterprise Community Partners
Jeffrey Schub, Coalition for Green Capital