Overview | Registration | Accommodations | Program | Presentations
ACEEE will convene a one-day symposium to highlight international energy efficiency best practices, with a particular focus on opportunities for improvement in the United States. Our research has shown that energy efficiency can be a low-cost, powerful tool for countries to meet their energy and environmental goals and to sustainably increase shared prosperity.
At this event, ACEEE will release its biennial International Scorecard, which examines the energy efficiency policies and performance of the world's 25 largest energy-consuming countries. The scorecard evaluates countries based on 35 metrics and shows how all can substantially improve their energy efficiency. It has attracted considerable media attention, including Clean Technica and USA TODAY, and this workshop will broaden its reach.
The symposium will feature four panels that will explore: (1) scorecard findings, (2) lessons learned from high-performing countries, (3) opportunities for the United States, and (4) notable efforts and opportunities for global companies.
Likely participants: Domestic and international policymakers; embassy energy and environment staff; internationally-focused NGOs and foundations; media representatives; development bank professionals; international economists; energy efficiency professionals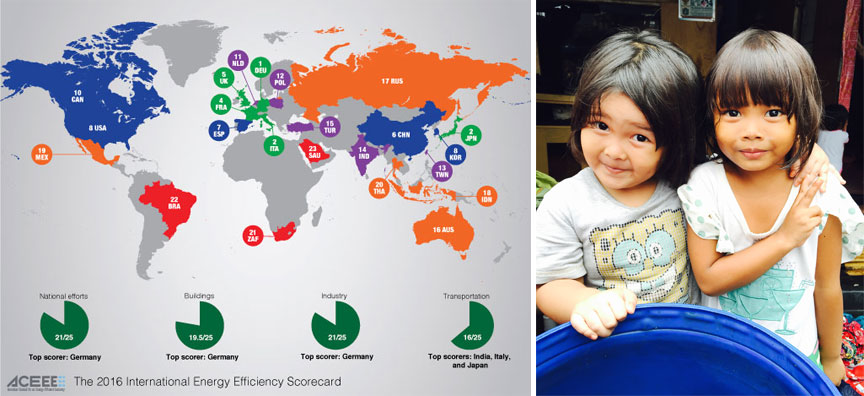 Presentations
Click on the presenter's name to view the presentation. (Note: not all presenters provided presentations for us to post for viewing.)
Tuesday, June 26
Key Takeaways from Leading Countries
Moderator: Steve Nadel, American Council for an Energy-Efficient Economy
Germany and the Energiewende - Targets and Progress
Barbara Schlomann, Fraunhofer Institute, Germany
French Policies for Energy Efficiency in Buildings
Carine Sebi, Grenoble Business School, France
Japanese Industrial Energy Efficiency Best Practices
Takeru Ito, Ministry of Economy, Trade and Industry, Japan
Lessons for the United States
Moderator: Charlie McGrudden, Daikin
How are Cities Playing a Leading Role on Energy Efficiency and Learning from International Experience?
Edward Yim, DC Department of Energy and Environment
Fuel Economy Standards and Feebates
Zifei Yang, International Council for Clean Transportation
Applying International Buildings Best Practices to the United States
Jennifer Amann, American Council for and Energy-Efficient Economy
Business Opportunities for Energy Efficiency
Moderator: David Calbrese, Daikin
The Kigali Amendment and Opportunities for Energy Efficiency
Helen Terrinoni, Chemours
White Certificate Programs in Europe and Australia
Steve Nadel, American Council for an Energy-Efficient Economy
Whole Buildings Solutions to Energy Efficiency
Charlie McCrudden, Daikin
Global Best Practices in Mobility
Moderator: Max Gruenig, EFEX
International Mobility Policies that could Apply to the US
Sebastian Castellanos, WRI
Congestion Pricing and Transportation Efficiency
Charles Komanoff, Komanoff Energy Associates
Making the Case for Sustainable Mobility in Italy and Europe
Massimo Marciani, Fit Consulting
Best Practices in BUILDING Energy Efficiency
Moderator: Jennifer Amann, American Council for an Energy-Efficient Economy
Building Energy Ratings and Energy Efficiency Passports
Mariangiola Fabbri, BPIE
Canadian Progress on Zero-Net-Energy Building Codes
Ian Macdonald, National Research Council, Canada
Cities and Electrification
Neil Veilleux, Meister Consultants Group, A Cadmus Company
Promising Approaches for Industry
Moderator: Neal Elliott, ACEEE
Industrial Strategic Energy Management
Paul Scheihing, US DOE
German Apprenticeship Training Programs
Manfred Staebler, Bosch
Energy Efficiency and Renewable Energy Integration
Moderator: Max Gruenig, EFEX
European Perspective
Antonella Battaglini, Renewable Grid Initiative
US Perspective
Rachel Gold, American Concil for an Energy-Efficient Economy
Registration
Register now at the rate of $85.

Accommodations
Accommodations are available at the Hamilton Hotel for $289/night for nights of  June 25 and 26. The cut-off deadline for the reduced rate is May 29, 2018. Each individual guest must make their own reservation by either calling 866-407-1764 or reserving online: American Council for Energy-Efficient Economy .
Guests making reservations must mention the group name ACEEE to receive the reduced rate. There is an "early departure" fee of $150 if guests depart prior to their reservation dates. We encourage you to make your reservations early to take advantage of discounted prices and availability.