Overview | Presentations | Advisory Committee | Keynote Speakers | Past Conferences     
What is Rural?
Small towns and rural countryside make up three-fourths of the land area in the United States and are home to 14% of the total US population. Rural America, defined as areas with a population of less than 50,000,  is also a way of life with a proud and independent culture all its own. Just as rural and small-town America's lifestyle is unique to its geography, so too are its energy, economic, and societal challenges.
The 2018 Rural Energy Conference, was a one-day, multitrack conference that preceded the two-day meeting of the Southeast Energy Efficiency Alliance (SEEA). It convened leaders from industry, utilities, cooperatives, nonprofits, academia, and government to discuss how energy efficiency technologies and programs can help rural America leverage its unique characteristics for economic growth and social equity.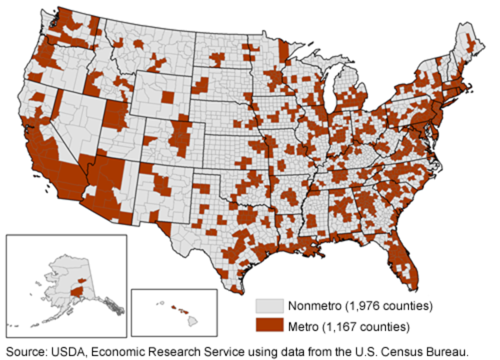 Our inaugural Rural Energy Conference featured plenaries and panels on the three tracks below: Energy Efficiency Programs, Energy Burden & Equity, and Economic  Development. Although we did not call for abstracts, there were opportunities to shape the conference agenda through webinars that we hosted on each track.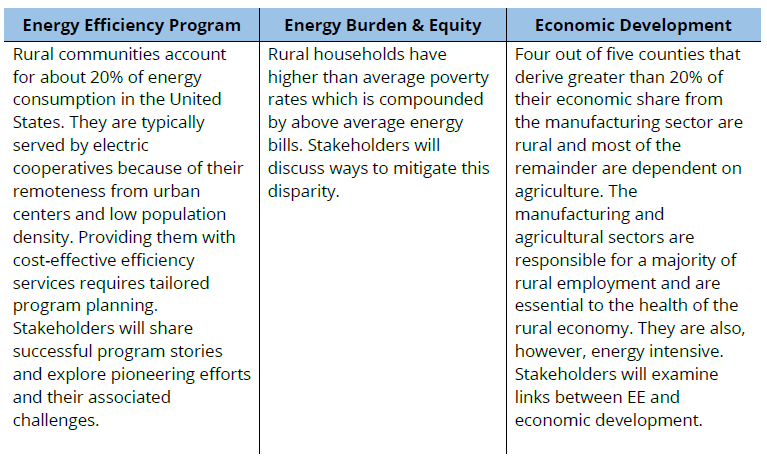 Presentations
Click on the speaker's name to view the presentation. (Note: Not all presenters provided presentations for us to post for viewing.)
Opening Keynote Address
Christopher A. McLean, U.S. Department of Agriculture Rural Utility Service
1A. Rural Program Design and Financing
Moderator: Mary Shoemaker, American Coucil for an Energy-Efficient Economy
How$martKY™ Program: An Overview 
Chris Woolery, Mountain Association for Clean Energy Development
Helping Solve the Affordable Housing Crisis with Energy Efficiency in Gunnison, Colorado 
Emily Artale, Lotus Engineering and Sustainability
Advancing a Clean Energy Economy in Central Appalachia  
Hannah Vargason, Natural Capital Investment Fund
1B. Energy Burden Mapping
Moderator: Carrie Dancy, Green County, Alabama Board of Education
Tools to Reduce Energy Burden in your Community: An Overview of DOE LEAD Tool in Minnesota
Michelle Joy Gransee, Minnesota Department of Commerce
Visualizing Energy Affordability: What Does a High Energy Burden Look Like? Who Experiences Them?
Heather Pohnan, Southern Alliance for Clean Energy
Energy Burden and Efficiency Potential for East Tennessee: A Case Study 
Rory McIlmoil, Appalachian Voices
1C. Distributed Energy Resources
Moderator: Peter Muhoro, National Rural Utilities Cooperative Financing Corporation
Solar PAYS Case Study 
James Owen, Renew Missouri 
Rooftop Solar as an Economic Engine for Rural Areas 
Michael Sachdev, Sunrun 
Community Solar and Energy Efficiency 
Mark Cayce, Ouachita Electric Cooperative
2A. Community Programs
Moderator: Molly Graham, Midwest Energy Efficiency Alliance
Realizing Energy Efficiency through Direct Collaboration between Utilities and Communities
Catherine Krasner, APTIM
Michael LaScola, American Electric Power 
Meeting Rural Customers Where They Already Are 
Seth Creigo-Snell, SCS Analytics LLC 
Stan Martz, Globe Electric 
How an Efficiency and Education Program Transformed the Energy Industry in Puerto Rico
Juan C. Diaz-Galarza, Dynamic Solar Solutions
2B. Inclusive Financing
Moderator: Marilynn Marsh-Robinson, Environmental Defense Fund
How$mart a Dozen Years Later  
Brian Dreiling, Midwest Energy, Inc.
Energy Efficiency Opportunities that Include Everyone 
Marshall Cherry, Roanoke Electric Cooperative 
Energy Efficiency Opportunities that Include Everyone 
Daniel Pate, North Carolina Sustainable Energy Association
Laura Langham, North Carolina Sustainable Energy Association
2C. Manufacturing and the Rural Economy
Moderator: Jason Walsh, National Cooperative Business Association 
The Relative Importance of Manufacturing to the Health of the Rural Economy 
Jill Ferguson, American Council for an Energy-Efficient Economy
How South Carolina is Meeting the Efficiency Needs of World Class Industry
James Chavez, South Carolina Power Team
DOE Programs to Support Rural Productivity 
Jay Wrobel, U.S. Department of Energy Advanced Manufacturing Office
3A. Agricultural Programs
Moderator: Kelley Smith Burk, Office of Energy, Florida Department of Agriculture and Consumer Services
Energy Efficiency & Agriculture – Fertile Ground for Savings 
Lisa Pucelik, Wisconsin Energy Conservation Corporation
How a Utility Program Harvested Energy and Water Savings in the Agriculture Sector
Emily Merchant, Navigant
Colorado Agricultural Energy Efficiency Pilot Program  
Michael Turner, Colorado Energy Office
3B. Manufactured Housing
Moderator: Luis M. Bernal, U.S. Department of Agriculture Rural Utility Service
Zero Energy Modular Homes: An Affordable Housing and Economic Development Program for Rural America 
Alison Donovan, VEIC  
Servicing Manufactured Home Communities 
E'Lois Thomas, SEEL, LLC.
A Model for Weatherizing South Carolina Manufactured Homes 
Mike Smith, Help My House SC
3C. Broadband Infrastructure
Moderator: Paul Breakman, National Rural Electric Cooperative Association
Designing Rural Energy Efficiency Programs in Wisconsin: Past, Present, and Future
Joe Fontaine, Public Service Commission of Wisconsin 
Connected Homes, Connected Future 
Bob Hance, Midwest Energy Cooperative
The Impact of Low Latency Networks on Distributed Energy Services  
Ron Holcomb, Tipmont REMC
4A. Residential Programs
Moderator: Nicolas Cavallo, EnergySavvy
Pre-Pay Power – Putting Rural Consumers in Control of Their Power 
Jimmy Green, Brunswick EMC
Providing High Quality Incentives and Services Across all Geographic Regions Using  Workflow Automation 
Greg Krantz, National Grid
Serving and Supporting Vulnerable Households in Sparsely Populated Areas
Tracy Stoner, Nexant
4B. Public Health and the Environment
Moderator: Monica Rockicki-Guajardo, Better Building Works, LLC
Co-Benefits of Weatherizing Low-Income Homes: A Rural Perspective
Bruce Tonn, Three3
Holistic, Multi-Benefit Models that Incorporate Energy Efficiency in Vulnerable Households
Jacqueline Patterson, National Association for the Advancement of Colored People
Getting our Ducts in a Row: A Successful Statewide Weatherization Program Targeting Energy Inefficient Homes 
Katherine Johnson, Johnson Consulting
4C. Beneficial Electrification
Moderator: Keith Dennis, National Rural Electric Cooperative Association Opportunities for Beneficial Electrification  
Ken Colburn, Regulatory Assistance Project 
Agricultural Beneficial Electrification: Trends and Opportunities
Kyle Clark, EnSave
Electrification of Rural School Bus Fleets 
Holmes Hummel, Clean Energy Works
5A. Commercial & Industrial Programs
Moderator: Brent Bailey, 25x'25 Alliance
Challenges of Delivering Energy Efficiency to Rural Business Customers
Adam Procell, Lime Energy
State-University Partnership Benefits Rural Small Businesses
David Carter, Kansas State Extension
Accessing Capital with USDA for your Rural Small Business and Agricultural Production Enterprise
Venus Welch-White, U.S. Department of Agriculture, Rural Business Cooperative Service
5B. Customer Relations and Education
Moderator: Gabriel Labastida, CoBank
Working with Members: Education, Energy Efficiency, and Economy 
Alan Shedd, Oglethorpe Power Corporation
Growing Utility Competition and Developing a Marketing Mindset 
Jeff Almen, National Information Solutions Cooperative
Results of Tailoring Efficiency Program Messaging to Rural Communities
Laura Matney, Wabash Valley Power 
Neil Curtis, Navigant
5C. Workforce Development
Moderator: Heidi Binko, Just Transition Fund
Country Revival: How Energy Efficiency Grows Rural Economies  
Grant Carlisle, Environmental Entrepreneurs (E2)
Qualifying New Entrants to the Energy Efficiency Workforce in South Carolina
Larry Bratton, The Sustainability Institute
How Tarriffed On-bill Programs are Creating Jobs in Rural America: An Update from the Field in North Carolina
Tammy Agard, EEtility
 
Robert Coates, USDA, Rural Development, Rural Utility Service,  Electric Program
Luis M. Bernal, USDA, Rural Development, Rural Utility Service,  Disaster Recovery Team
Venus Welch-White, USDA, Rural Development, Rural Utility Service,  Energy Programs
Aaron Morris, USDA, Rural Development, Rural Utility Service,  Energy Programs
 
Closing Plenary Keynote
Mark Cayce, General Manager and CEO of Ouachita Electric Cooperative
 
Advisory Committee



Keynote Speakers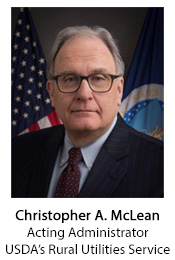 Christopher A. McLean is the Acting Administrator of the Rural Utility Service where he oversees the operations of the planning, policy and finance agency focused on rural electric, telecommunications, broadband, water and sewer infrastructure. The agency makes low interest loans for rural electric infrastructure, renewable energy, smart grid and energy efficiency and its investment portfolio exceeds $60 billion. Chris also serves as the Assistant Administrator for Electric Programs (AAE) at the RUS. As AAE, Chris presides over a $46 billion loan portfolio.
Mr. McLean is a former RUS Administrator and former Governor of the Rural Telephone Bank. Prior to his return to RUS, Chris was the Acting Director of the Program Planning and Accountability Division of the Office of the Assistant Secretary for Civil Rights (OASCR) at the United States Department of Agriculture. Chris was in private practice from 2001-2010 and was the co-owner of e-Copernicus, a consulting firm that specialized in telecommunications, transportation and technology policy.
Mr. McLean hails from Omaha, Nebraska. He received an LL.M. in International and Comparative Law from Georgetown University in 1985, a J.D. from Creighton University School of Law in 1982, and a degree in Business Administration from Creighton University in 1980.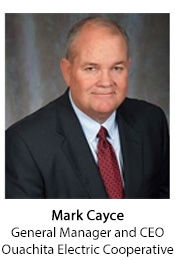 Mark Cayce is the General Manager and CEO for Ouachita Electric Cooperative headquartered in Camden, Arkansas and has served in this capacity since January of 2002. He has over 39 years of experience working with investor-owned utilities and electric cooperatives. Mark was named as one of the Top 40 Electric Utility Innovators in 2017 by Public Utilities Fortnightly and was recognized by Arkansas Governor Asa Hutchinson and the Arkansas Department of Environmental Quality with the 2018 Energy Excellence Award for partnering with South Arkansas Telephone to merge solar energy and fiber-optic internet, while bringing fiber optic internet to rural South Arkansas. Under his leadership, Ouachita Electric Cooperative was recognized by the Smart Electric Power Alliance as the 2017 Electric Cooperative of the Year. 
Presently, Mark serves as Chairman of Arkansas Electric Cooperative Corporation. Prior to joining Ouachita Electric Cooperative, he was with Texas Utilities for 15 years where he specialized in energy efficiency, customer service, and local management. He served as Operations Manager at Jackson Electric Cooperative in South Texas for 10 years. He is a graduate of the University of North Texas.