Preliminary Program | Keynote Speakers | Registration | EFEX Workshop | Accommodations | Sponsorship Opportunities | Past EER Conferences
In October 2019 in Minneapolis, ACEEE will host its tenth National Conference on Energy Efficiency as a Resource (EER), the premier US convening conference on efficiency as a utility system resource. Held every other year since 2001, the conference highlights the latest developments in the design and delivery of customer energy efficiency programs, and in the regulatory mechanisms that help make them possible. Look for a robust discussion of the many issues facing utilities as they acquire and integrate this resource into their planning and operation.
Utilities and system planners now face increasing expectations from policymakers, regulators and customers. There are challenges to integrate technological advancements, modernize the grid, and meet increasing energy and environmental goals… all while constraining costs. These challenges bring opportunities to better integrate energy efficiency to meet those needs. EER19 will have a robust discussion of the many issues facing utilities as they acquire and integrate this resource into their planning and operation.
Likely participants:
Utilities and program administrators, regulatory commissions, state government, consultants, manufacturers, environmental organizations, consumer groups, and research institutes.
Click here to view a list of organizations that participated in EER's 2017 conference.
Highlights of the event include:
Crowd favorite "Regional Roundup" plenary highlighting utility energy efficiency updates from across the United States
Two additional plenary panels, one moderated by ACEEE's Executive Director, Steve Nadel, on the 'hot topic' of energy efficiency's role in electrification and decarbonization. The second panel will be announced as plans progress
An entertaining and interactive poster session while enjoying lunch and networking with colleagues
Two dozen breakout sessions on topics including exemplary programs in residential, commercial, and industrial sectors; EE as a distributed resource; the latest developments in electrification; issues in B/C testing and avoided costs; grid-interactive efficient buildings; the latest innovations in policy support for EE; integrated resource planning; market transformation; EE as a non-wires alternative; and various special program area topics, including low-income, rural, new construction, and multifamily programs

Keynote Speakers
Wednesday, October 16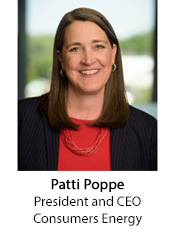 Patti Poppe is President and Chief Executive Officer of Jackson, Michigan based CMS Energy and its principal subsidiary, Consumers Energy, Michigan's largest utility and the nation's fourth largest combination utility. Consumers Energy provides electricity and natural gas to 6.7 million of Michigan's 10 million Lower Peninsula residents. She was elected to this position in July 2016.
Since accepting this position, Poppe has led a fundamental transformation of Consumers Energy onto a path of enhanced environmental stewardship. This is most vividly illustrated by the company's Clean Energy Plan, which features a path to eliminating coal and meeting customers' electric capacity needs with 90% clean energy resources. Patti Poppe will discuss this transformation, and the importance of energy efficiency in building a sustainable energy future.
Thursday, October 17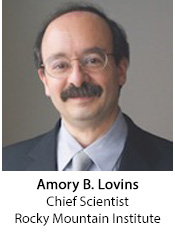 Physicist Amory Lovins is the cofounder and Chief Scientist of Rocky Mountain Institute. He has written 31 books and over 640 papers. He is a frequent technical and strategic advisor to major firms and governments and a designer of superefficient buildings, vehicles, and factories. He received the Blue Planet, Volvo, Zayed, Onassis, Nissan, Shingo, and Mitchell Prizes, MacArthur and Ashoka Fellowships, 12 honorary doctorates, the Heinz, Lindbergh, Right Livelihood, National Design, and World Technology Awards, and Germany's Officer's Cross of the Order of Merit.
In 2009, Time named him one of the world's 100 most influential people, and Foreign Policy, one of the 100 top global thinkers. Drawing on examples and evidence from many sectors and applications, his talk will show how with integrative design—designing whole systems, not piles of parts—the energy efficiency resource is severalfold larger and cheaper than normally assumed, and can often yield increasing returns, just like modern renewables.
Registration



*Refunds due to cancellations will incur a $100 processing fee. Refunds will not be given after September 10.
For questions about conference logistics and registration, please contact Lynn Pyle.
Workshop on Integration of Renewables and Energy Efficiency
Tuesday, October 15, 1:00 - 5:00 pm - Radisson Blu Hotel
ACEEE in partnership with the Energy Future Exchange (EFEX) program, is organizing a pre-conference workshop to highlight how energy efficiency and renewables can work together to create a clean energy future.
This half-day event will bring together industry and utility experts, domestic and international policymakers, and researchers. Attendees will learn about how utility system planners and customers can integrate efficiency and renewable energy and will have the opportunity to connect and exchange ideas with a wide variety of stakeholders.
This workshop is co-funded by the European Union.

Registration for the EFEX Workshop is available through the conference registration page at the rate of $75. 
Accommodations
The deadline has passed to reserve rooms within the ACEEE group block. The Radisson Blu Minneapolis Downtown may still be able to accommodate your request. Please call them directly to check on availability and pricing (612-339-4900).
 
Sponsorship Opportunities
If your organization would like to learn more about the various sponsorship levels and the associated benefits, please contact Marty Kushler, Dan York or Lyne Pyle.
For information on sponsorship opportunities for the 2019 National Conference on Energy Efficiency as a Resource, download our sponsorship flyer.