Overview | Steering Committee | Program | Registration | Accommodations | Sponsorship Opportunity | Past Hot Water Forums
Homeowners and building occupants expect to receive a constant supply of hot water for showers, dishwashing, and laundry (and other uses). However, most people don't realize that water heating water can be a complex and energy-intensive process!
Join us for ACEEE's 2019 Hot Water Forum, where you will hear from experts on the latest technologies and techniques to improve how we make, distribute, and use hot water. In addition to improving water heating efficiency, these new tools can help us respond to the evolving energy paradigm that includes renewable energy and energy storage.
Since 2008, the Hot Water Forum has brought together experts and novices from manufacturing, distribution (plumbing), electricity, gas and water utilities, government, and the research community to learn from each other and build momentum for market transformation. The Forum features two full days of sessions presented by experts in the field on cutting-edge development. In addition, look for exciting announcements about additional opportunities we plan to offer.
Steering Committee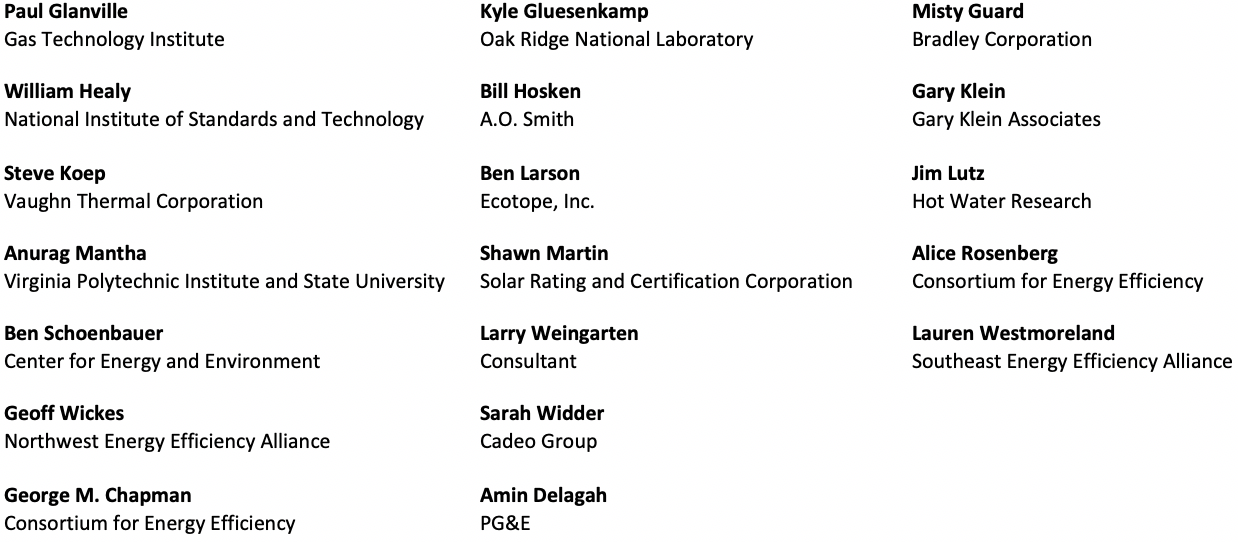 Program
Shameless Commerce
Back by popular demand, the standing room only session is back! Shameless Commerce will be packed with short presentations on relevant new products and services and is an opportunity for companies to present a short (2.5 minute) infomercial on their latest and greatest. Audience participation will judge the best pitch.
Presentations will be strictly limited in time and will not be posted on the forum website. Space is limited to 20 participants. To sign up, please email Hannah Bastian (hbastien@aceee.org) with your presentation pitch and contact information by February 28.
Registration


Pre-conference Tour - A.O. Smith manufacturing facility, Ashland City, Tennessee 
A.O. Smith reserves the right to decline plant tour participation to any individual for unspecified reasons. This is due to the highly proprietary and confidential nature of many of our manufacturing processes.
A.O. Smith has offered to host a small group of conference attendees for a tour of their world class manufacturing facility in Ashland City, Tennessee on Monday, March 11, just prior to the start of the 2019 Hot Water Forum.
The Ashland City facility is one of three A.O. Smith North American factories producing residential gas and electric water heaters with a production capacity of approximately 10,000 water heaters per day. The facility includes their North American operation headquarters, distribution center, and finished product quality control laboratory. With approximately 29 acres under roof, this is the world's largest water heater manufacturing facility.
The tour will leave the Nashville Hilton Downtown at 11:00 am on Monday, March 11 and return around 4:00 pm.  A light lunch will be served at the facility.
This tour is limited to the first 35 registrants and a small fee of $15 will be charged. Interested individuals can sign up in the registration process using the link above. You must be attending the conference in order to participate in the tour.
Accommodations
Stay in the heart of the city at the city at the Hilton Nashville Downtown. Book your room using the link below, or call 615-520-2150 to receive our special group rate of $258 per night through February 8, 2019. To receive the group rate, reserve early and mention you are with ACEEE.

Sponsorship Opportunity
For information on sponsorship opportunities for the 2019 Hot Water Forum, download our sponsorship flyer. If you have questions or would like more information, please contact Charlie Herron, Development Coordinator.