The Multifamily Energy Savings Project
The Multifamily Energy Savings Project
The American Council for an Energy-Efficient Economy (ACEEE), with the support of the John D. and Catherine T. MacArthur Foundation, is engaged in a multi-year project to improve and expand utility energy efficiency programs that target multifamily housing. The project focuses on creating or expanding comprehensive building upgrade programs for market-rate and affordable multifamily housing through partnerships between utilities and the multifamily housing community. We provide utilities and with research on best practices for program design and direct technical assistance to improve their existing offerings. ACEEE also facilitates peer-to-peer exchange by convening a working group of electric and gas utilities' multifamily program administrators.
The Savings Potential in Multifamily Buildings
Multifamily buildings present a tremendous opportunity for energy savings. Comprehensive, cost-effective upgrades in multifamily buildings can improve efficiency by 15-30%, representing an annual sector-wide savings of almost $3.4 billion. While spending for utility energy efficiency programs is on the rise, few programs are designed specifically to serve market-rate and affordable multifamily buildings. The multifamily sector has unique program needs due to complex ownership structures, utility bill payment responsibilities, and lack of capital for upfront costs. By partnering with building owners and other multifamily stakeholders, utilities can shape their programs to better address the needs of this sector.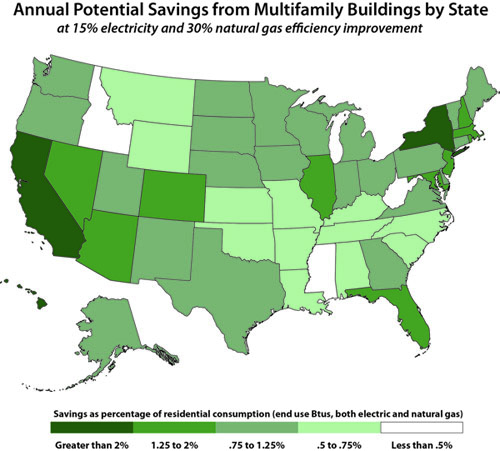 Note: This map shows the potential for energy savings from multifamily buildings by state. The darker shades indicate states where the potential savings from multifamily buildings represent a larger share of current residential energy consumption.
The success of the project depends on encouraging and supporting partnerships among stakeholders including:
Utility program staff
Utility regulators
Housing and community development groups
Market-rate and affordable building owners
Local and state government officials and staff
Energy service providers working with multifamily buildings
To sign up for updates or to learn more about opportunities to participate, including through the peer working group, contact Lauren Ross at (202) 507-4039 or via contact form.