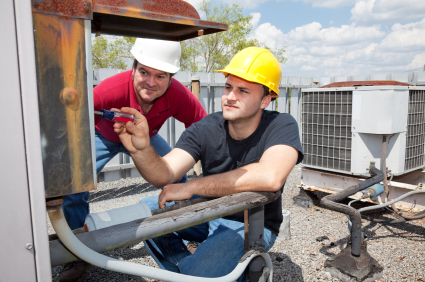 Workforce has emerged as a vital issue in the successful implementation of energy efficiency throughout all sectors. It is a critical issue for implementation of energy efficiency in manufacturing, as well as expansion of production and productivity improvements more broadly. In addition, a well-trained workforce is important in designing and operating commercial and institutional buildings, which have increasingly sophisticated controls.
The Industrial Assessment Center (IAC) program is the only manufacturing energy efficiency training program currently funded by the Federal Government, specifically the Department of Energy's Industrial Technologies Program (ITP). The program has been among the most cost-effective and impactful of the federal energy efficiency programs: in 2006 the program yielded a 90:1 return on federal dollars. ACEEE has been working to expand and enhance the IAC program to meet the growing need for energy efficiency in the industrial sector.
An aging commercial and institutional building workforce presaging large-scale retirement of technicians, combined with the rapidly growing need for professionals well-trained in building energy efficiency, has created the need for a comprehensive approach to improving the education and training of professionals in each of these fields.
To address the commercial and institutional building workforce, ACEEE has been working to promote the Building Training and Assessment Center (BTAC) program, which would utilize three groups of higher education institutions to develop the energy efficiency workforce:
University-level BTACs will educate building engineers and building scientists, creating opportunities to train these professionals in designing and operating buildings with optimal efficiency. Universities will support work with satellite BTACs at community colleges and trade schools.
Satellite BTACs designed to train building technicians will be based in community colleges and trade schools (including continuing education programs) in a program emphasizing troubleshooting building operations.
The last tier of universities will be "Centers of Excellence," BTAC universities that are already established leaders in the field of buildings energy efficiency. They will serve as resources to the other BTACs, with a budget to travel in order to provide mentoring and maintain the network of educators creating a better trained and qualified workforce.
A key component of each BTAC program will be free energy performance assessments of individual commercial and institutional buildings, providing energy-saving suggestions to building owners and operators while providing practical hands-on experience to trainees. This combination has been a key for success in the Industrial Assessment Center program.