Many households across the country suffer from high energy costs, especially low-income households. These households typically have older and less efficient appliances and heating/cooling equipment, and other structural issues within the home that allow for energy waste. High energy burdens cause families to make important tradeoffs between food, medicine, keeping the lights on, and other basic necessities. They also affect a households' ability to meet monthly utility payments.
Energy efficiency programs for low-income households help address energy affordability by providing building upgrades that can reduce household energy burden over the long term. ACEEE's work supports research and policy efforts toward improving and expanding energy efficiency services and technologies for low-income households. Utilities may use ratepayer dollars to fund low-income energy efficiency programs. Based on our recent research of the 50 largest cities, we found that many of these cities offer an electric or natural gas low-income efficiency program, but these programs varied greatly by design and implementation.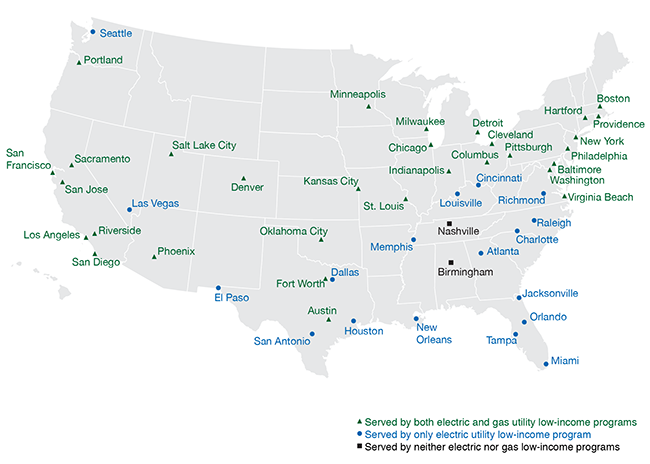 Low-income efficiency programs run by the largest electric and natural gas utility serving each of the 51 largest cities in 2017
Some states have specific spending and savings requirements for programs serving the low-income sector. In addition, many ratepayer funded programs coordinate with other energy assistance programs, such as weatherization and bill assistance. This coordination can allow ratepayer funded programs to leverage state and federal funding, such as the Weatherization Assistance Program (WAP) and the Low-Income Home Energy Assistance Program (LIHEAP). Low-income programs are often about more than just saving energy, as they can also improve energy affordability and home health and safety.
For more information on low-income multifamily programs, see the Multifamily Energy Savings Project.
For information on state level and local utility level low-income energy efficiency policies, see the ACEEE State and Local database.
To learn more about ACEEE's low-income energy efficiency research and low-income utility working group, contact Ariel Drehobl at (202) 507-4038 or via contact form.
ACEEE Resources
Overview documents
Reports and white papers
Fact sheets
Tool kits
Blog posts