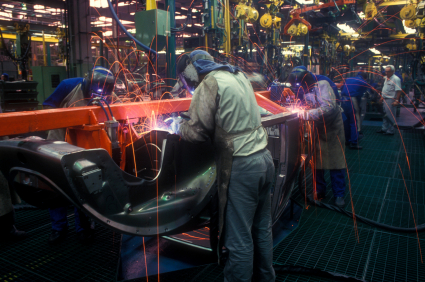 In spite of perceptions that U.S. manufacturing has been in rapid decline, manufacturing continues to represent a vital component of the United States economy, accounting for about 14 percent of gross domestic product. The manufacturing sector was responsible for almost a third of both national energy consumption and greenhouse gas emissions in 2007.
Much of the debate surrounding national climate and energy legislation has centered on the manufacturing sector. Manufacturers and lawmakers are concerned that greenhouse gas regulations could unduly increase costs for manufacturing production and force some U.S. industries to move overseas. Energy efficiency in manufacturing can play a critical role in greenhouse gas abatement, and the opportunities for efficiency in the sector are significant.
A recent study by McKinsey & Company found that the manufacturing sector has a large amount of no- or low-cost opportunities to reduce greenhouse gas emissions, mostly through implementation of energy efficiency projects. McKinsey found that the manufacturing sector could reduce its emissions by over 30 percent through these opportunities. These findings are consistent with what ACEEE has found over the past two decades.
According to the National Association of Manufacturers, the U.S. share of global manufacturing output remained constant at between 20 and 23 percent over the first decade of the millennium. ACEEE's 2008 analysis suggested that the manufacturing sector was poised to enter a period of new capacity investments as the economy approached full utilization of existing capacity. Despite the economic downturn that began in 2008, the factors driving reinvestment have not fundamentally changed. When the economy recovers, the manufacturing sector will find itself in need of significant investments in new capacity, and will face the need for a trained workforce.
ACEEE is active in promoting energy efficiency in the manufacturing sector through technical, market, and policy analysis. Specifically, we work with lawmakers, associations, businesses, and utilities to enhance energy efficiency programs, funding, and workforce development.