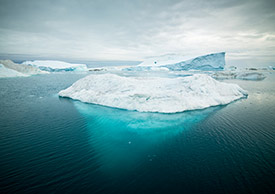 Late on Friday, the Department of Energy (DOE) proposed new efficiency standards for commercial icemakers, which make the ice provided by drink dispensers in fast food restaurants among many other uses. While the proposed standards would be a significant step toward improving icemaker efficiency, higher cost-effective efficiency levels could be achieved using commercially available technologies.
At a fast food restaurant, icemakers typically sit on top of the fountain drink dispensers. Commercial icemakers are also used in places like hotels, hospitals, and convenience stores. DOE estimates that icemakers meeting the proposed standards sold over thirty years would reduce U.S. electricity consumption by about 30 billion kilowatt-hours, which is equivalent to the annual electricity use of three million U.S. homes, and save businesses $1.8 billion. The new standards would also reduce CO2 emissions by 15 million metric tons, which is equivalent to the annual emissions of four coal-fired power plants. However, higher cost-effective efficiency levels would increase national energy savings by about one-third compared to the proposed standards.
The proposed standards, which can be met by employing higher-efficiency compressors and motors and increasing heat exchanger surface area, would reduce...