On-Bill Financing for Energy Efficiency Improvements
On-Bill Financing for Energy Efficiency Improvements
Click here for a pdf version of this page
Energy efficiency retrofits in our homes and buildings can achieve large monetary and energy savings across the buildings sector, but face numerous barriers. High upfront costs continue to be one of the significant barriers to tapping into this savings potential. Addressing the financial barrier to investments in energy efficiency has been a complex hurdle, which is evident from the number of innovative energy efficiency financing program designs that have emerged over the past several decades. To achieve higher savings from energy efficiency programs for buildings, it is imperative to assist property owners with financing the upfront costs of efficiency improvements. On-bill financing (OBF) can support this goal by leveraging an electric or natural gas utility's unique relationship with their energy customers to provide convenient access to funding for energy efficiency investments. This access to financing can then enable customer participation in other energy efficiency programs.
Credit losses on both consumer and commercial utility bills tend to be far lower than for other obligations. OBF allows utility customers to invest in energy efficiency improvements and repay the funds through additional charges on their utility bills. If structured properly, an OBF program can substantially reduce the cost of and improve access to financing. In many cases, the product can be "bill-neutral," meaning that energy savings are sufficient to cover the monthly payments for the financing so that the total monthly charge on utility bills is less than or equal to the pre-investment amount.
On-bill programs have been piloted as early as 1993 (New London Resource Project, Wisconsin), but have recently seen a surge in popularity. Currently, utilities in at least 23 states have implemented or are about to implement OBF programs, many of which (Illinois, Hawaii, Oregon, California, Kentucky, Georgia, South Carolina, Michigan, and New York) have legislation in place that supports adoption. Additionally, a number of state utility regulators have taken action to explore the feasibility of on-bill programs.
Below are some of the benefits and barriers to on-bill programs.
OBF Benefits:
Drastically reduces or eliminates first costs for customers.
Aligns timing of costs and benefits of energy efficiency measures, generating immediate positive cash flow—monthly energy savings are equal to or greater than the repayment charge.
Leverages existing billing relationship between consumers and utilities.
Can operate concurrently with a rebate program to reduce the total amount financed.
Financing can be tied to a property (often through the meter) so that debt transfers across owners/tenants.
Bill payment history can be used instead of or to complement a full credit report.
Implied or actual threat of disconnection increases repayment rates.
Versatile financing tool that can be combined with a variety of different sources of capital and implementation strategies.
OBF Barriers:
Utilities may not have the human resources to navigate or comply with consumer lending laws, which vary by state.
Utilities may not have the expertise, the means, or the desire to become lending institutions.
May require a redesign of utilities' billing systems.
Equity consideration: some programs are funded by public benefit funds, into which everyone pays, but only a limited number of people apply for and actually benefit from the on-bill financing program.
Need for marketing and education—availability of financing doesn't guarantee participation and many customers may not be familiar with how financing options operate.
Financing projects that generate savings for multiple fuels can be tricky—e.g., should electric customers help pay for natural gas or oil savings?
Structure and Implementation of OBF Programs
Utilities and other program administrators can implement OBF in a variety of ways. It is most commonly structured as a loan or tariff, but could also be structured as an energy service agreement or lease. No two on-bill programs are exactly alike, which reflects the diversity of utility and regulatory structures, the specific needs of different communities, and the differing state and regional legal and regulatory landscapes. Beyond the shared characteristic of on-bill repayment, these programs vary in their sources of capital, financing product design, target market, and overall implementation strategy. Fundamentally, it is an innovative collection mechanism that can be utilized in variety of ways to optimize its net benefit across a diverse array of communities.
Typically, the purchase and installation of efficiency measures in OBF programs are paid for upfront either by the utility or one of its financial partners, and a charge is added to the participants' utility bill until all costs are repaid. Financing is often provided through a system-wide public benefits charge, by a utility using its own ratepayer funds, or through a third-party lender such as a Community Development Financial Institution (CDFI). OBF programs can also complement rebates, grants, or tax incentives for energy efficiency products to further reduce the upfront costs.
On-bill financing programs have become more prevalent only in the last decade. One major barrier to adoption is the fact that the role of lender is often outside of a utility's business model and expertise. In many cases the development, capitalization, and administration of these programs comes at a significant cost that utilities may not be able to recoup without regulatory approval. Additionally, lack of familiarity with consumer lending laws can expose a utility to legal risk. Encouraging utilities to participate often requires mandates implemented through the utility regulatory body or the state legislature. For instance, utilities in states with energy efficiency resource standards (EERS) appear more likely to voluntarily adopt OBF. OBF programs can help utilities to meet energy savings targets in states that mandate them, while allowing utilities to recoup the program costs through a rider and earn a return on their investment, which makes the venture less financially burdensome.
While a majority of existing programs rely on a federal funding source (grants or loans) and/or ratepayer funds for capital, the private sector is likely to be critical of the growth and scaling of these programs in the future, especially given ongoing pressure for fiscal austerity. OBF programs, with default rates typically lower than 2%, can offer a unique opportunity for financial institutions to safely tap into traditionally underserved markets by leveraging the utility's relationship with the customer to provide safe, cost-effective investments with steady returns.
Below we explore in greater detail tariff- and loan-based systems and the benefits and barriers to each. We also briefly discuss capital sources for financing these programs. For more information on sources of capital for OBF programs, see Table 1 in Bell et al. (2011).
Tariff-Based Systems
Tariffs assign the financing obligation to a building's meter, allowing the obligation to transfer to subsequent owners or renters. This ability to transfer financing from one building owner/occupant to the next aligns the financing term and the payback period for the installed energy efficiency measure, keeping monthly payments low for the consumer regardless of who owns the property. As such, tariffs are ideal for facilitating investment in rental properties. Tariff-based systems work well in both residential and small commercial and industrial applications, but currently they are more common in the residential sector.
From the customers' perspective, the transferability of the debt to subsequent owners or renters makes tariff-based systems attractive because the customers only pay for the measure as long as they are benefiting from it. This is especially true for homeowners who may be considering a move in the short term, albeit less true for commercial and industrial property owners as equipment is not necessarily compatible across business types. Nonetheless, a tariff-based system may increase the saturation of energy efficiency products, especially relatively expensive products with longer payback periods. In addition, tariff-based financing helps to overcome the renter-owner split incentive by allowing successive renters to receive the benefits of lower monthly bills without burdening the property owner with major upfront costs.
From the utility perspective, on-bill tariff programs can be attractive since utilities often do not have to stray too far from their business model in order to implement them. The process for imposing a voluntary tariff is one that may be familiar, and the product does not necessarily have to offer debt to consumers. In many cases, the utility can frame the product as an energy efficiency service, e.g., participating customers enter into an energy services contract with their utility for the installation of energy efficiency measures. Furthermore, in many states tariffs are not considered loans and thus are subject to different laws and regulations. This can be a huge boon in states with consumer lending laws, an issue we discuss briefly below.
There are some potential drawbacks to tariff programs. While tariffs are usually not considered debt and thus not subject to consumer lending laws, for which compliance by a utility can come at a considerable cost, tariffs are subject to regulatory approval, the process of which can vary depending on the type of utility. Additionally, the fact that the tariff is tied to a property means that utilities will be required to administer and oversee the transaction until the costs are repaid, which could take years depending on the terms of agreement and the cost of the measure(s).
Other potential issues arise in the rental/multifamily market, where landlords could bear a significant risk for repayment if they are unable to fill the vacancy of a unit that has been retrofitted through the on-bill program. There is also the need for transparency when rental property is transferred between occupants, in terms of notifying a new occupant of the on-bill charge. How this issue is resolved is heavily dependent upon program design—some programs notify new tenants through the lease agreement—but its importance cannot be understated.
Loan-Based Systems
In contrast to a tariff-based system, loans assign financing to an individual customer and the financing is often non-transferable. Loan-based systems can be financed similarly to tariff-based systems: by ratepayers through a public benefits charge; by utilities, which could raise capital from bonds or other investor markets; or by private lenders who provide the capital (and utilities act solely as the collector). Principal and interest payments are then collected on the utility bill. With a loan system, some utilities prefer to finance through a third-party lender because acting as a lending institution is not within their business model, though utilities may be reluctant to act as a debt collector as well. Still, some of the most successful loan programs (in Connecticut and California) are financed through public benefits funds and administered by utilities.
Offering loans to finance energy efficiency investments may be more attractive to utilities than tariffs in that loans do not necessarily require regulatory approval, making the system easier to adopt. However, compliance with consumer lending laws, which vary by state, may make utilities apprehensive. Utilities are often unfamiliar with consumer protection laws and lack the human resources to navigate and understand them, making compliance very costly. In such cases, state governments could support on-bill financing by providing technical assistance for compliance with these laws.
Establishing and operating a loan program incurs costs and takes time. For starters, utility billing systems are not always able to incorporate non-energy billing into their processes. The less compatible a system, the more costly it is for a utility to change. Loan programs also require continued obligations for utility administration and oversight for many years. Utilities are also concerned about incurring liability and "consumer dissatisfaction" risks. Establishing a clear definition of who bears the risk for potential loan defaults is critical during the design phase.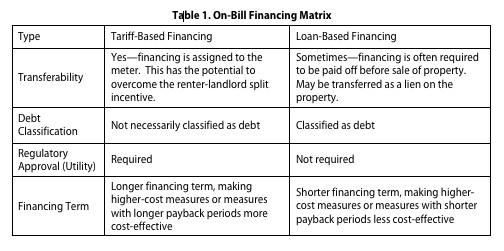 Program Design Considerations
The development of a successful on-bill program is contingent upon several key program design considerations. Many existing on-bill programs leverage lessons learned from earlier programs, but must adapt certain elements of program design to meet the specific needs of their regional stakeholders. While there may be many "best practices" out there, they may not meet program needs because of differences in utility regulatory structure, state consumer lending laws, housing stock characteristics, and consumer demographics. Nevertheless, the adoption of on-bill repayment could still be utilized to enhance an individual program. Optimizing the potential of on-bill programs requires program administrators to think carefully about eleven critical elements of program design. Fundamental considerations for program designers include:
Program objectives
Target market
Selection of program administrator
Financial product structuring
Capital source
After the fundamental considerations are set, secondary considerations should be examined and designed with the goal of achieving the defined objectives. These secondary considerations include:
Credit enhancements
Customer eligibility requirements
Project eligibility requirements
Installment
Marketing
Additional incentives
Program Objectives
Utility motivation for the adoption of on-bill repayment can be catalyzed by a number of factors including state legislative or regulatory energy savings targets, management of peak loads, enhancement of customer satisfaction, avoiding the need for new power plants, and extending state energy efficiency funds to a broader audience (due to enhanced underwriting including utility bill repayment history).
In many ways, the program objectives will play a critical role in the structuring of the financial product, and which class of customers the program should target. Program administrators should carefully consider the markets they serve, building stock characteristics, owner-occupancy rates, and customer access to affordable credit, and then develop a product that is best suited to the unique needs. For example, a utility serving a market with multifamily housing units that are individually metered may want to consider offering a tariff (e.g., How$mart Kansas), whereas a utility serving a market with centrally metered multifamily housing might want to consider offering landlords energy efficiency service agreements (e.g., Oregon's MPower program) (Volker 2011; Blue Tree Strategies 2011).
Bear in mind that the goals of partners in the financial services industry may differ from utility goals. Thus, it is important to identify and tailor program design elements to work toward mutual goals of all parties.
Target Market
Determination of a target market should rely heavily on program objectives and demographic factors such as regional building stock and the energy usage patterns of different classes of customers. In the United States, on-bill programs have been designed for residential, commercial, and industrial markets. Many are specifically targeted to specific markets such as owner-occupied residential, rental, large multifamily buildings, small business, public buildings, and large commercial and industrial customers.
Selection of Program Administrator
Program objectives play a critical role in determining which party will administer the program. Current on-bill programs are administered by utilities, energy service companies (ESCOs), nonprofit organizations, and in some cases, Community Development Financial Institutions (CDFI) or financial services providers. As with all financial products, on-bill financing is not without risks, albeit relatively low ones (Hayes et al. 2011). Identification of these risks during program design can optimize mitigation measures and ensure that the product is desirable to stakeholders.
From the utility perspective, repayment risk can be a concern depending on how the on-bill product is structured. This may also be the primary concern of financial partners. Many on-bill programs have developed alternative underwriting standards that often include utility bill repayment history. Given low default rates on utility bills, and the fact that non-payment could result in shut-off, these standards show some promise. Yet they could inhibit the ability to market products to a secondary market because of their novelty. Data collection on loan performance should be carefully documented if at all possible to ensure future scalability. Partnering with other program administrators to develop systems for capturing and reporting data could also further the potential for these types of programs (Bell et al. 2011; Byrd & Cohen 2011).
Utilities may also face legal risks such as complying with consumer lending laws and should consult with subject matter experts on that particular topic. In recent years, consumers and businesses appear uneasy about taking on new debt. One positive aspect of on-bill financing is that it can be structured so that the repayment value never exceeds the energy savings—though this tactic might discourage deep retrofits in some markets. Still, there is some risk that customers might fall upon hard times and be subject to disconnection.
In rental markets, it is important to define whether landlords or tenants are responsible for repayment. The appropriate party will vary from market to market depending on how utilities are distributed at the majority of rental properties and how billing is handled. It is also important to ensure that tenants who are responsible for repayment are notified and accept the responsibility prior to signing a new lease (Mitchell & Nissen 2011).
Financial Product Structuring
When it comes to structuring the on-bill financial products, different approaches have worked well for different programs. Existing on-bill programs have been structured as loans, tariffs, or service agreements. Loans often work well in programs where repayment periods do not exceed the amount of time a customer is expected to occupy the property. Tariffs can transfer with the meter when occupants change. Service agreements are a promising approach for multifamily buildings in which landlords are ultimately responsible for paying utility bills.
Some interdependency exists between the structure of the financial product and eligible energy efficiency measures for the program. The life and repayment period for eligible measures can significantly shape loan terms and subsequently may influence underwriting standards. Many on-bill programs require their product to be bill-neutral, meaning that energy savings must equal or exceed the repayment charge on the monthly bill. There is some debate in the field as to whether or not bill neutrality is a requirement for a successful program (Freehling 2011).
Source of Capital
Capital for existing on-bill programs comes from a variety of places. Many programs accessed revolving loan funds in their states that were created using federal dollars provided by the American Recovery and Reinvestment Act of 2009 (ARRA). Some programs access ratepayer energy efficiency funds, and a few utilize third-party sources. The Electric Cooperatives of South Carolina program accesses funds through the USDA's Rural Economic Loans and Grants (REDLG) program (Couick 2011). These capital sources are often limited in size and availability, but many programs have set up revolving loan funds to sustain their programs in the future (ECSC 2011).
As on-bill programs expand, it is widely recognized that third-party financing is likely critical to the scaling and sustainability of programs. Four of the 19 programs examined in Bell et al. (2011) accessed funds through a partnership with a CDFI. Such partnerships often make a lot of sense because the objectives of on-bill programs can be synergistic with the CDFI's mission. CDFI experience with financial products can be leveraged to help programs to facilitate effective risk management. Furthermore, these institutions can leverage relationships with other financial institutions to expand access to capital (Fugate 2011).
While the majority of current programs still rely on a federal funding source (grants or loans) and/or ratepayer funds for capital, the private sector is likely to be critical to the sustainability, growth, and scaling of these programs in the future.
Currently, New York and more recently California have made the most significant strides in developing statewide on-bill programs that could extend the potential of third-party financing. In New York, loans are currently classified into two tiers, with one set of loans adhering to more traditional underwriting standards. These top tier loans will be marketed to secondary markets to test the performance of energy efficiency loan products (Pitkin 2011).
Credit Enhancements
Utility, nonprofit, and ESCO-run programs can do more to attract third-party financiers by setting up loan loss reserves or loan guarantees. Programs that are confident about customer repayment can signal the value and security of the investment opportunity to financial stakeholders by making use of these tools.
Loan loss reserve funds provide partial risk coverage and can be set up using public funds without a guarantor. Reserve funds can be used to smooth payments to investors in the event of delinquency. A loan guarantee is a promise that a guarantor will cover an investor's losses in the event of a borrower's default (Frusha & Karger 2010).
Some also consider tying utility shutoff to repayment to be a form of credit enhancement. People tend to prioritize utility bills, and given that many on-bill programs are bill neutral, it is likely that on-bill financial products can be perceived as a safe investment (Copithorne 2011).
Customer Eligibility Requirements
On-bill programs that are positioned to extend products to underserved markets should carefully consider alternative underwriting standards. While many programs have used bill payment history as an alternative underwriting standard, it is very difficult to engage private sector financiers without requiring some traditional standards such as a minimum credit score.
New York's two-tiered loan system allows for the program to provide products to customers with different levels of creditworthiness. The more creditworthy customers' loans will be the first to be sold to the secondary market. Once it is better understood how those loans perform, the others might be sold as well (Pitkin 2011).
Project Eligibility Requirements
Project eligibility requirements will vary greatly depending on the objectives of the programs, building stock, and target audiences. In cases where utilities are attempting to manage peak loads, it often makes sense to target projects that guarantee a certain level of energy savings. Typical measures that have been targeted in existing programs include weatherization, appliances, and lighting. It has been difficult for programs to fund some popular enhancements such as replacement windows because of the difficulty of assuring bill neutrality or reasonable repayment periods.
Installation
It is important for program administrators to consider logistics for energy audits and measure installation. In many cases, programs will use free audits to attract customers with some requiring reimbursement if the customer does not ultimately decide to go through with installation of the recommended measures.
Several on-bill programs, such as the South Carolina Rural Energy Savings Program, also require a back-end audit to ensure that all installed measures are operating properly. If energy usage patterns do not reflect the estimation provided in the initial audit, the auditors will provide customers with tips for maximizing their energy savings (Couick 2011).
Many on-bill programs partner with Building Performance Institute (BPI) certified contractors to ensure quality for energy audits. For quality assurance purposes, many programs will seek to provide their customers with a list of approved contractors to perform measure installation. The contractors in turn can play a critical role in marketing the program.
Marketing
Existing programs have used a number of tactics to market their efforts to prospective customers. Many have established websites and distribute materials to customers through a variety of mediums. Some advertise on utility bills. Others rely on contractors to spread information about the program through word of mouth.
In a South Carolina program targeting manufactured houses, prospective customers are identified by mining complaint calls. Participating cooperatives will contact dissatisfied customers and offer the program as a means of improving home comfort and achieving energy savings (Couick 2011).
Consumer advocates such as the Center for Working Families in New York can also play an important role in marketing to residential customers. These trusted entities can leverage their relationships in a variety of networks to spread information about the benefits of on-bill financing (Gelman 2011).
Additional Incentives
In an effort to attract customers, many programs go a step further in offering additional incentives. Many draw customers by bundling financing with rebates, offering low interest rates, and/or not requiring any money down.
Addressing Barriers
Once implemented, on-bill financing programs are not guaranteed to succeed simply because they make financing readily available and easy to secure. Customers' unwillingness to assume greater debt often trumps their concerns about the efficiency of their homes or buildings, whether the debt incurred is in the form of a tariff or a loan. As mentioned above, the commercial and industrial sectors are more likely to participate in a loan program because of economies of scale, but cash flow and upfront capital requirements remain major barriers, as does the prioritization of other business operations such as payroll (Brown 2009).
Expanding customer participation in these programs will therefore require a holistic approach that includes several key elements, such as: marketing; technical information (audits); direct financial cost-sharing (rebates); implementation assistance (pre-qualified contractors); and quality assurance (post-inspections) (see Hayes et al. 2011 for more information on augmenting customer participation in financing programs). On-bill financing, whether in the form of a tariff or a loan, should be one part of the whole—an additional tool to help customers cover their share of the retrofit costs. Even then, persuading customers to commit to thousands of dollars in retrofit costs can be difficult.
Allaying the concerns of the financial community is a significant hurdle that must also be addressed. A common argument used in the pitch to third-party lenders is that energy efficiency financing is a very low risk venture because customers generally prioritize paying their utility bills, and so they are more likely to repay on-bill tariffs or loans. However, default risk is not necessarily the primary concern of the financial community. Given the relatively low-risk nature of these loans, there has been some initial traction on the discussion of bundling energy efficiency loans for marketing to secondary markets. However, there is still a great deal of uncertainty surrounding how these products function as an asset class, in part because there is a lack of uniformity across product offerings, which makes risk assessment difficult, as well as a lack of understanding on how the asset bundles will perform in the market. Finally, a clear definition of who bears the risk of potential loan defaults is absolutely imperative before any lending institution will participate.
Recently, smaller lending institutions (credit unions, CDFIs, and "one-stop shop" efficiency organizations) have been quite active in these markets, though they generally focus on the residential sector. The benefit of smaller lending institutions is that they often do not require large projects and they may find co-benefits by marketing other services to loan recipients. Ultimately, the growth and efficacy of OBF programs within the residential sector will depend on the growing presence of lending institutions and their ability to provide zero- or low-cost financing.
Leading States
Below we briefly highlight some of the leading on-bill financing programs around the country. For greater detail on these programs, please see Bell et al. (2011).
Clean Energy Works Oregon
Program Objectives: Customer satisfaction; compliance with HB 2626, The Energy Efficiency and Sustainable Technology Act (EEAST).
Target Market: Residential (owner-occupied and rental).
Program Administration:Clean Energy Works Oregon (CEWO), nonprofit.
Financial Product Structuring: Loan-based financing. Participants can transfer the loan for an $850 fee if they sell their property. During the pilot phase, the median loan size was $12,633 with a 5.99 percent interest rate and a 20-year repayment term.
Capital Source: Craft3 (formerly Enterprise Cascadia) a local Community Development Financial Institution ("CDFI"). The program was started with ARRA funds.
Credit Enhancements: No explicit credit enhancement.
Customer Eligibility Requirements: Underwriting based on utility bill repayment history and requires a minimum credit score of 590.
Installation: BPI certified contractor performs a free Home Energy Assessment. Certified contractor works with CEWO Energy Advisor to plan the project the contractor will install.
Project Eligibility Requirements:Energy savings minimum thresholds were set to manage program costs including wall and floor insulation, and 30 percent for extended weatherization plus installation of a furnace or heat pump. On average, project sites saved 4,249 kWh and 380 therms per year.
Marketing: http://www.cleanenergyworksoregon.org/.
Additional Incentives: Some customer rebates, no money down.
Connecticut Small Business Energy Advantage
Program Objectives: Compliance with EERS and usage of an established public benefit fund; customer satisfaction; management of peak loads.
Target Market: Small business customers.
Program Administration:The program is co-administered by Connecticut Light & Power and United Illuminating, both IOUs.
Financial Product Structuring: These loans do not transfer with the property and are expected to be paid in full by the borrower.
Capital Source: Public benefits fund comprised of Class III Renewable Energy Credits, ISO-NE Forward Capacity Market Revenues, Regional Greenhouse Gas Initiatives (RGGI) funds, and ARRA funds received when initiated in 2009. A revolving loan fund has been established.
Credit Enhancements: Loan-loss reserve and disconnection for non-payment.
Customer Eligibility Requirements: Loans between $500 and $100,000 extended to commercial and industrial customers with peak demands between 10 and 200 kW. Utility bill repayment history supplements underwriting.
Project Eligibility Requirements: Targeted measures include energy-efficient lighting, HVAC, and refrigeration, among others. The typical project size ranges from $8,000 to $12,000 and is financed over an average term of 24 to 36 months.
Installation: Conducted by approved contractors and vendors.
Marketing: http://www.cl-p.com/business/saveenergy/services/energyadvantage.aspx
Additional Incentives: Qualifying customers have access to a zero percent interest rate. The UI Small Business Energy Advantage program combines the loans with incentives that subsidize a portion (30-40 percent) of energy efficiency improvement projects. If the customer installs two or more measures, the incentives grow to 50 percent.
New York On-Bill Recovery Loan Program
Program Objectives: Expand upon Green Jobs Green New York Program and provide a product attractive to customers; compliance with Power NY Act of 2011 (A.8510/S.5844); extend energy efficiency funds to individuals that may not traditionally qualify for lending products through modified underwriting.
Target Market: Residential (owner-occupied).
Program Administration:New York State Energy Research and Development Authority (NYSERDA), a public benefit corporation.
Financial Product Structuring: Loan that is secured by mortgage upon real property. New legislation is under consideration, where the owner would also sign a declaration notifying future buyers of the charge, which is tied to the building meter. The mortgage is subordinate to current and future mortgage and not subject to foreclosure. Non-payment results in utility shut-off. The interest rate on the loan is 2.99% and there is a $150 loan processing fee.
Capital Source: State energy efficiency fund, and revenue from Regional Greenhouse Gas Initiative (RGGI). Program administrators aspire to attract third-party capital in the near future. NYSERDA has established a revolving loan fund.
Credit Enhancements: The utilities will utilize all standard collection procedures for unpaid loan balances. NYSERDA may utilize a loan-loss reserve or hold-back when it markets a portfolio of loans.
Customer Eligibility Requirements: Two-tiered underwriting standards. Tier 1 loans are subject to more traditional underwriting standards and will be the first that are bundled for the secondary market. Tier 2 loans have lower credit score requirements and rely more heavily on utility bill payment history.
Project Eligibility Requirements: The project must be bill-neutral. The minimum loan amount is $3,000 with a maximum of $25,000 if the repayment period is 15 years or less. Eligible measures include insulation and air sealing, furnaces, boilers, water heaters, air conditioners, lighting fixtures, and appliances.
Installation: A BPI certified contractor provides a comprehensive energy audit and recommendations. The owner participates in the Home Performance with ENERGY STAR program. The loan is originated by Energy Finance Solutions and the owner signs the mortgage or declaration. When the project is complete, NYSERDA places a Loan Installment Charge on the bill.
Marketing: Various channels; consumer advocates such as the Center for Working Families have also been promoting the program.
Additional Incentives: None specified.
Rural Energy Savings Program Pilot, Electric Cooperatives of South Carolina
Program Objectives: Demand-side management and avoidance of costs to build a new nuclear power plant; rehabilitate manufactured housing stock (24% of electric co-op homes in South Carolina); target low and moderate income residential market.
Target Market: Low and moderate income residential(owner-occupied and rental).
Program Administration:Electric Cooperatives of South Carolina, a trade association for state cooperatives.
Financial Product Structuring: Low-interest (2.5%) loan that follows the meter. Non-payment results in utility shut-off.
Capital Source: USDA Rural Economic Loans and Grants (REDLG) program, credit union assists with processing.
Credit Enhancements: Loan-loss reserve and disconnection for non-payment.
Customer Eligibility Requirements: Utility bill repayment history.
Project Eligibility Requirements: Focus on envelope measures, heat pump replacements, insulation, and sealing of air leaks. Projects are bill-neutral.
Installation: A BPI certified contractor provides a comprehensive energy audit accompanied by a representative from the cooperative and provides recommendations. After an approved contractor installs the measures, a back-end audit is conducted to assure that energy savings are being recognized. Data on the performance of the installed measures is being collected by cooperatives and the Environmental and Energy Study Institute (EESI).
Marketing: Cooperatives mined complaint calls for customers that could potentially lower their utility bills through energy efficiency upgrades.
Additional Incentives: No money down.
California (proposed program)
Program Objectives: Extend on-bill to residential customers; dramatically expand availability of finance for commercial projects; reduce financing and programmatic burdens to utilities by attracting third-party lenders; compliance with state energy efficiency resource standard.
Target Market: Residential and commercial.
Program Administration: The program is expected to hire a documentation and payment processing firm that will be responsible for confirming eligibility, providing the utilities with monthly customer billing information and all customer service duties. The administrator will be paid for by lenders. Utilities will be paid fees that are expected to more than reimburse them for their associated costs of the program.
Financial Product Structuring: The program is designed to create a tariff-based payment portal that will allow lenders/investors to provide customized financing solutions with loans, leases, power-purchasing agreements (PPA), and energy-saving associations (ESA). A requirement for bill neutrality will be one source of customer protection.
Capital Source: A wide variety of banks, leasing companies, ESA firms, institutional investors, and other private capital sources are expected to participate.
Credit Enhancements: The utility will be expected to utilize all of their standard bill collection procedures as approved by the PUC. All consumer protections will remain in place.
Customer Eligibility Requirements: As long as bill neutrality is maintained, there will be few limits on customer qualification. Underwriting will be conducted by the lender/investor. Public subsidies may be provided for underserved markets. The program is expected to serve commercial, industrial, single-family, and multi-family residential properties.
Project Eligibility Requirements: The proposal contemplates a wide variety of energy efficiency and renewable generation upgrades that can meet the standard of bill neutrality.
Installation: Conducted by qualified contractors and vendors. Qualification processes are TBD.
Marketing: Private lenders, contractors, and vendors will develop their own business models and marketing programs. Utilities and public entities may also participate in certain marketing activities.
Additional Incentives: The program is expected to work in conjunction with existing utility incentive programs.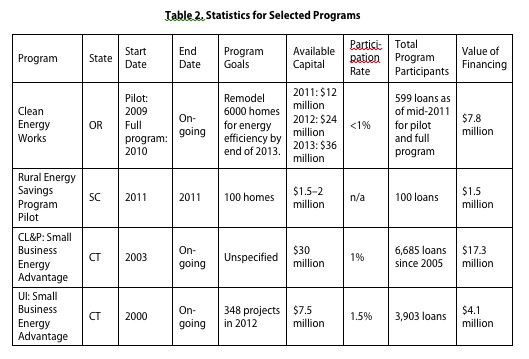 Bell, C., S. Nadel & S. Hayes. 2011. On-Bill Financing for Energy Efficiency Improvements: A Review of Current Program Challenges, Opportunities, and Best Practices. ACEEE report number E118. Washington, D.C.: American Council for an Energy-Efficient Economy.
Blue Tree Strategies. 2011. "MPower Fund: Overview of MPower Model." Portland, Oreg.: Blue Tree Strategies.
Brown, M. H. 2009. On-Bill Financing: Helping Small Business Reduce Emissions and Energy Use While Improving Profitability. http://www.nsba.biz/docs/09OBFNSBA.pdf. Washington, D.C.: National Small Business Association.
Byrd, D. J. & R.S. Cohen. 2011. "A Roadmap to Energy Efficiency Loan Financing."http://www.cleanenergyfinancecenter.org/wp-content/uploads/DOE-Energy-Efficiency-Report-rev-8-29-11.pdf. Memorandum to U.S. Department of Energy, April 29. New York, N.Y.: Progressive Energy Group.
Copithorne, B. 2011.  Innovations in Energy Efficiency Finance Conference.  http://blogs.edf.org/energyexchange/2011/09/22/using-financial-innovation-to-break-down-barriers-to-energy-efficiency-upgrades-%E2%80%93-conclusion-innovations-in-energy-efficiency-finance-conference/. San Francisco, CA: Environmental Defense Fund.
[ECSC] The Electric Cooperatives of South Carolina. 2010. Electric Cooperatives' Commitment to Energy & Innovation: South Carolina. Cayce, S.C.: The Electric Cooperatives of South Carolina, Inc.
Frusha, M. & J. Karger.  2011.  "Leveraging Federal Funds: Department of Energy PACE Webinar." January 15.
Hayes, S., S. Nadel, C. Granda, & K. Hottel. 2011. What Have We Learned from Energy Efficiency Financing Programs. ACEEE report number U115. Report to U.S. Department of Energy. Washington, D.C.: American Council for an Energy-Efficient Economy.
Mitchell, J. & W. Nissen. 2011. Enabling Energy Efficiency in Rental Housing: Overcoming the Split Incentives Barrier.  http://conservancy.umn.edu/bitstream/107532/1/Mitchell_Enabling%20Energy%20Efficiency%20in%20Rental%20Housing.pdf. Minneapolis, Minn.: Humphrey School of Public Affairs, University of Minnesota.
Pitkin, J. 2011. "Green Jobs Green New York Program and On-bill Recovery Financing Briefing." http://www.ncsl.org/documents/energy/JeffPitkin.pdf. Presentation to the National Conference of State Legislators, July 27. Albany, N.Y.: New York State Energy Research and Development Authority.
State and Local Energy Efficiency Action Network. (2014). Financing Energy Improvements on Utility Bills: Market 
Updates and Key Program Design Considerations for Policymakers and Administrators. Prepared by: Mark Zimring, 
Greg Leventis, Merrian Borgeson, Peter Thompson, Ian Hoffman and Charles Goldman of Lawrence Berkeley 
National Laboratory. http://www1.eere.energy.gov/seeaction/pdfs/onbill_financing.pdf 
[US DOE] US Department of Energy. 2014. Financing Solutions http://www1.eere.energy.gov/wip/solutioncenter/financing.html​  Technical Assistance toolkit with pieces on types of financing programs and program design elements.